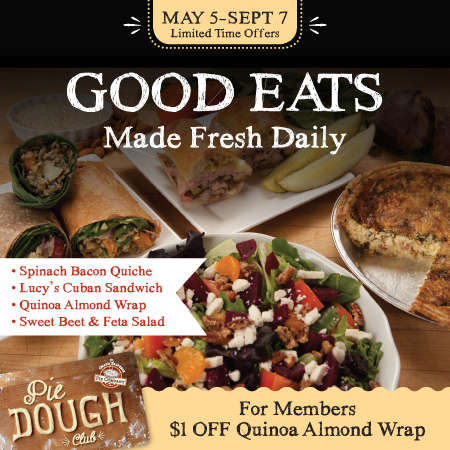 From May 5th to September 7th we celebrate "Good eats made fresh daily!" with these new menu items.
Spinach Bacon Quiche
We invite you to try the Quinoa (said KEEN-wah) Almond Wrap - a healthy whole grain combined with fresh baby spinach, chopped apples, mandarin oranges and red onion all mixed in a Yogurt Poppy Seed dressing. We will give $1 off to Pie Dough Club Loyalty members who order the Quinoa Almond Wrap.

Lucy's Cuban Sandwich
If you're in the mood for a salad try the Beet and Goat Cheese Salad with Mediterranean Feta Dressing -nothing like fresh made salads in the warmth of the summer.

Quinoa Almond Wrap
For all of you quiche lovers we have a new Spinach Bacon variety. Quiche is a wonderful combination of eggs, milk, and cream with savory flavors baked in our homemade, flaky crust…savory pie made fresh daily, what could be better.

Sweet Beet & Feta Salad
For the hearty appetite Grand Traverse Pie Company created a sandwich just for you…Lucy's Cuban. This grilled sandwich is loaded with pulled pork, and ham and Swiss cheese on Focaccia bread. Very craveable!
Visit one of our locations to try these special items for a limited time.