Petoskey Pie Shop under new ownership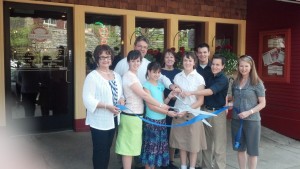 You think you're busy? Amy Westphal probably has you beat, and she does it all with a positive attitude. Westphal took over as owner of the Grand Traverse Pie Company in Petoskey on April 26.
Operating a restaurant is a daunting task for anyone, but Amy has transitioned to it pretty well. She's used to juggling schedules, meeting deadlines, handling a crisis or two, and doing it all while having to make sure everyone around her is happy. You see, Amy was a stay-at-home Mom for more than three decades, and she's raised (or is still raising) 11 children.
Amazingly, Amy has homeschooled them all. The three youngest are still being homeschooled, and they help out when they can at the Petoskey Pie Shop.
"They don't seem to think Mom is nuts," Amy explains. "They love it, my kids think it's pretty cool."
The oldest kids have moved on and are pursuing their own careers, a few of them are married, and in fact, Amy is a grandmother. When you have 11 kids, there's never a dull (or quiet) moment. Add the activity of being a restaurant owner, and you have the recipe for a bustling daily agenda. Luckily, Amy's years as a stay-at-home Mom to an army of children have prepared her for the rigors of running a business.
"I've developed good organizational skills," Amy said, in what is probably the biggest understatement you'll ever hear from a parent. "I tend not to procrastinate – I try to be a step ahead of what's coming next."
It was daughter Alison who was the first of the Westphals to be employed at the Grand Traverse Pie Company, working there as she made her way through nursing school. Amy also worked there part-time on-and-off for the last few years, and was approached by the previous owners a few years ago about purchasing the business. The timing wasn't right then, but when the opportunity arose earlier this year, Amy pounced. Son Seth works at the Pie Shop part-time too, and is planning to expand his role now that Mom is the boss. The youngest kids flit in and out of the Pie Shop, helping where they can, learning the business, and meeting customers.
Asked what challenges she is most concerned with as a new business owner, Amy points to staffing. But with 11 kids, it seems she'll probably be able to find some bodies somewhere to solve any issues. Like most parents, Amy rolls down the list of her kids names when asked: Kristi, Kyle, Paul, Andrew, Alison, Jacob, Abigail, Seth, Lydia, Josiah, and Anna. It just takes a bit longer than most.
Originally from the southern part of Michigan, between Detroit and Toledo, Amy and her husband moved to Petoskey more than 30 years ago. Amy's husband is still employed at his job and plans a limited role at the Pie Shop. The Pie Shop is Mom's gig, and she has ambitious plans for her new career as owner.
"I'm meeting lots of people in the community," Amy said as she carved out a few minutes for an early morning interview from her Pie Shop located downtown. "It's exciting to actually be the face of the Pie Company."
In her first few weeks as owner, Amy has made an effort to reach out to her employees to offer training and praise. She's also increased the baking schedule, which has resulted in an increase in sales. Baking more pies may be more risky from an inventory standpoint, but even when she has left over baked items, Amy doesn't let it go to waste. She frequently brings extra items into the community to introduce her sweet tasting treats to new customers. She also has ambitious plans to expand the catering portion of her business this year. Her goal is to create a relationship with the people who are her neighbors in northern Michigan.
"I want to build the business here, and then reach out beyond that," Amy says.
Nothing is ever certain in business and things can change rapidly, but Amy's previous profession as "Mom, Wife, Chauffeur, Caretaker, and Matriarch of 11," has more than prepared her for whatever lies ahead.
"I don't know where this will lead me."
Wherever it takes her, Amy Westphal will have a wealth of experience to help her, her employees, and her customers in her Pie Shop along the way.