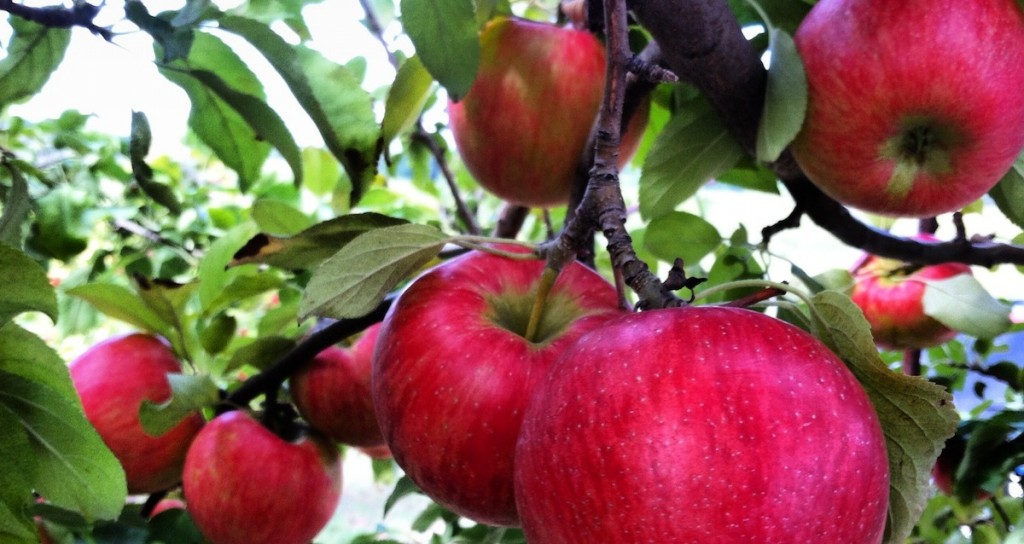 Apple Harvest at Amos Farm
Denise and I had the good fortune to visit John Amos – owner of Amos Farm this past Tuesday.  The apple harvest began on Monday the 10th.  John and his family own orchards in the Elk Rapids area of Northwest Lower Michigan.  This is a multi generation family operation which started in 1895.   They grow primarily apples, cherries, pears, and plums.  John and his family were gracious hosts and they gave us a grand tour of their orchards and their farm.  They even picked us a big bag of Honey Crisp apples!  We brought along a few apple pies for them as well.  It was a beautiful Pure Michigan day with crystal blue skies contrasted with the green fields and orchards in every direction.
The apples that we use in all of our Grand Traverse Pie Shops come from John Amos' orchards.  We use Northern Spy apples for our pies and we think they make the best pies because of their tartness and firmness.
As you may know the spring warmth and April freezes had a significant effect on our state's apple crop, as well as the other fruit crops such as cherries, peaches, plums, and pears.  Typically Michiganis the 3rd highest producer of apples nationally only behindWashington andNew York.  There are over 7.5 million apples trees on 38,000 acres here inMichigan.  Family farms account for 99% of the apple crop in our state and the apple crop is by far the largest fruit crop with over 50% of our 1.4 billion pounds of the fruit crop that we grow. Michigan's normal apple yield is over 25 million bushels, this year it will be only 2 – 3 million bushels.  This puts a great deal of stress on our farmers and processors and we continue to support them through these times and hope and pray for a bountiful 2013.
The good news is that the Amos Farm just north of Elk Rapids did not suffer the damage that most encountered so they will see good yield from that orchard.  Consequently all of our apple pies will be full of Amos Farm's  Northern Spy apples grown on the 45th parallel between the Grand Traverse Bay and Torch Lake.
We are so grateful to the Amos family, as well as our friends and processing partners at Smeltzer Orchard Company over in Frankfort.   They process apples from Amos Farm and many other local growers and they are another multi generation family business working hard to bring the bounty of our state to all of our tables.
Please join us in supporting our family of Michigan Growers!