GT Pie on Fox & Friends
The temperature may have been low, but the enthusiasm was "pie high" on Wednesday morning when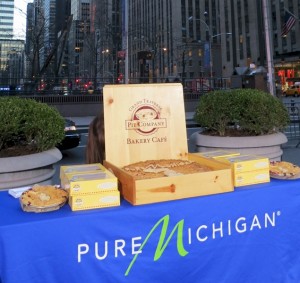 Grand Traverse Pie Co. founder Mike Busley joined the Fox & Friends crew to celebrate National Pie Day.
Busley and other members of the GT Pie Co. crew from Michigan were with host Steve Doocy outside the Fox studios on the street in New York City, handing our free slices of pie made with Michigan fruit.
National Pie Day is held every January 23 to celebrate one of America's favorite treats – pie. The Grand Traverse Pie Company, with corporate headquarters in Traverse City, Michigan, and 15 locations in Michigan and Indiana, buys nearly 95% of their ingredients from the state of Michigan. The GT Pie Co. is committed to the state and supporting local businesses.
As part of the National Pie Day celebration, GT Pie Co. is giving away free slices of fruit pie with any purchase at one of their 15 locations on January 23.
Pure Michigan was represented during the taping with Fox & Friends, in a continuing partnership between the Grand Traverse Pie Company and Pure Michigan, which promotes tourism and business in the state.
See more photos of our appearance on Fox & Friends at the Grand Traverse Pie Co. Facebook page.