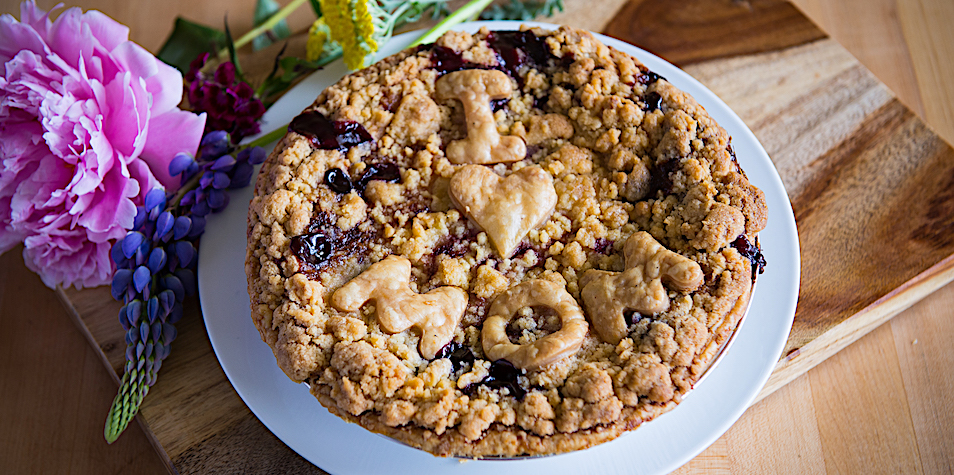 Grand Traverse Pie Shares the Goodness of Pie This Mother's Day Weekend
Celebrate Mom With This Month of May's Signature Pie: Blueberry Lemon Silk Pie
And…There's a FREE SLICE for Moms to Celebrate!
(Traverse City, MI)  May, 2022 — Grand Traverse Pie Company is excited to celebrate moms this Mother's Day Sunday, May 8th (Traverse City Shops will celebrate Saturday, May 7th) with Free Slices of their own pick of pie. This Mother's Day Grand Traverse Pie Company is thrilled to release its Blueberry Lemon Silk Pie for the month of May.
This beautiful pie starts with the famous homemade pastry crust we all know and love at the pie company. Made fresh every day, we line the crust with a homemade blueberry filling, then add a layer of lightly whipped cream cheese filling made with freshly squeezed lemons, all decorated with a scalloped whipped cream topping, blueberries, and lemon zest.  This signature pie is back by popular demand as part of the 'Best of Series of Pie'.
Complimentary Slices of Pie for Moms on their special day are offered at most GT Pie locations.  Both Traverse City Pie Shops are closed on Sunday, so to celebrate those locations will offer the free slices on Saturday, May 7th.  Additionally, the Rochester Hills location will celebrate with free slices for moms on Friday, May 6th in lieu of Saturday or Sunday.  Visit www.GTPie.com for exact participating pie shop and their hours.
Michigan Agriculture
Grand Traverse Pie Company is proud to always feature Michigan products in every pie. This year's free pie slices are made with Montmorency Cherries, Rubel Blueberries, Northern Spy Apples, and Michigan sugar and flour.  In fact, about 1,500,000 pounds of these Michigan apples, blueberries, cherries, sugar, and flour go into Grand Traverse Pie Company's delicious pies every year.
In addition to making over 40 varieties of handmade pie, Grand Traverse Pie offers breakfast, lunch, and dinner dishes including sandwiches, salads, and soups made with local flavor and tasty twists.
And there's a 'not-to-be-missed' delicious opportunity to take home a Free Mini Michigan Fruit Pie this month of May when you purchase select items from the GT Pie Grab and Go case located in most GT Pie Shops.  Visit www.GTPie.com for store locations throughout Michigan and Indiana.