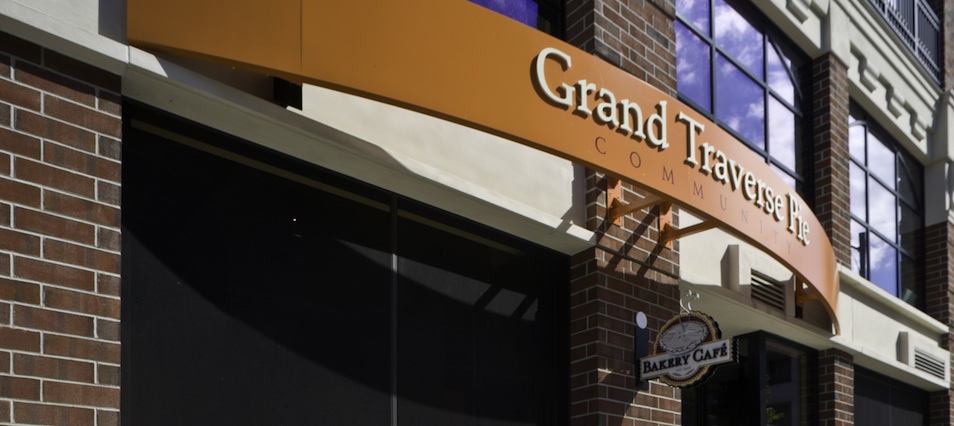 New shop in Traverse City has a community connection
Just baked, from scratch, flavors and aromas will fill the newest Grand Traverse Pie Company location, just steps away from the popular State Theatre in the heart of the bustle in downtown Traverse City. Grand Traverse Pie Company co-founders Mike and Denise Busley invite Pie and Café enthusiasts to visit the newest GTPC location at 101Park Street on Opening Day May 5th. Grand Traverse Pie Company will welcome patrons to its newest downtown Traverse City store with the familiar "fresh baked" aromas flowing from the open air kitchen. This Pie store is different however. It melds the traditional business entrepreneurial spirit with a strong commitment to social entrepreneurial spirit.
"We are not just serving up Michigan fruit pie and local menu favorites to our guests, but we are serving up a life time endeavor to support our community through contributions made to local non-profits and charities. Profits from this family owned and operated GTPC will be given back to community non-profits," stated Mike Busley, founder of Grand Traverse Pie Company (GTPC).
"Denise's passion for social entrepreneurship has transcended through our family. Through PIE we are fortunate to be able to connect with others in our Traverse City business community, all in an effort to make a difference to others and be conscious stewards to community giving," stated Busley.
The Busley family along with the entire team at Grand Traverse Pie Company is proud to have its roots dug deeply into the Grand Traverse area – both urban and rural.
The Grand Traverse Pie Company 'family' believes that by promoting the region and Michigan, millions of dollars indeed make an economic impact – this belief will allow Mike, Denise, Bobby, and Kellee Busley to make a real difference in their own community. "We are extremely proud to support our community and the many good works organizations that propel our region; we will continue to be a building block in our community – one that invests in the quality of life within our most precious region – the Grand Traverse Region.
Beyond the keen sense of 'community', GTPC supports Michigan by making over 95% of its purchases from Michigan companies and promotes two of the State's key ingredients – agriculture and commerce. Michigan fruit (cherries, apples, blueberries, and strawberries), sugar, and flour all come from our State's growers and processors. Grand Traverse Pie Company will drive over $18 million into the Michigan economy again this year.
"The agriculture economic impact alone is significant not only to Northern Michigan, but the entire state", noted Busley. "Michigan is the Grand Traverse Pie Company's discriminator. Our customers are not only loyal to us because of our handcrafted pies and well-prepared café cuisine, but because we are passionate about doing business in Michigan and giving back to the communities in which we do business in!" said Busley.