Book Event at Grand Traverse Pie Company of Terre Haute to benefit Families by Choice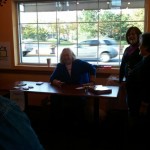 TERRE HAUTE — Families by Choice held a special event on  Tuesday, October 9 at Grand Traverse Pie Co. to celebrate the release of "The Innkeeper's Wife," a children's/gift book.
Books purchased that evening were signed by the author. "The Innkeeper's Wife" is written by Dr. Muriel Ryan. It looks at the Inn and what took place on the night Christ was born and the days following. Proceeds of the sale went to support the work of Families by Choice.