Calley helps celebrate math, food and agriculture on National Pi Day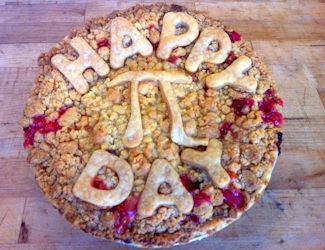 LANSING – In honor of National Pi Day, a day noted by math enthusiasts around the world on March 14, Lt. Governor Brian Calley joined the Michigan Department of Agriculture and Rural Development (MDARD), the Michigan State University (MSU) Product Center, Michigan Farm Bureau, and the Grand Traverse Pie Company in encouraging Michiganders to celebrate math, education, and agriculture.
"Today, Michigan celebrates two things that are critical to our continued economic reinvention– education and agriculture. Both play key roles in our vision for Michigan 3.0," said Calley. "This is a fun way to raise awareness of the importance of math and science education in the lives of our youth, and also honor Michigan's 55,000 farmers and the thousands of food and agriculture businesses who help feed us every day. Pi Day recognizes that with an educated and trained talent base, our future will continue to be bright."
"As MDARD Director, my passion is to continue planting the seeds of entrepreneurship for rural development and watch our $91.4 billion food and agriculture system grow," said Clover Adams. "As the second most agriculturally-diverse state in the nation, Michigan offers tremendous new business and growth opportunity around food and agriculture.
MDARD, Michigan Farm Bureau and the Michigan State University Product Center have partnered with the Michigan-based Grand Traverse Pie Company to commemorate the day. As part of the statewide celebration of agriculture and education, several Grand Traverse Pie Company locations will be offering customers in their store a free slice of a Michigan fruit-filled pie throughout the day.
"We are honored to work with entrepreneurs like Mike and Denise Busley in their quest to strengthen Michigan's economy by investing in food and agriculture," said Chris Peterson, director of the Michigan State University Product Center. "Pi Day is the perfect time to recognize that a strong foundation in science and math are an integral part of any business plan. And the Busley's have struck a great balance between the hard and creative sciences to create a successful business worthy of celebration."
Pi is the symbol for the ratio of the circumference of a circle to its diameter. Pi = 3.1415926535… With the use of computers, Pi has been calculated to over 1 trillion digits past the decimal. Pi is an irrational and transcendental number, meaning it will continue infinitely without repeating. The symbol for Pi was first used in 1706 by William Jones, but was popular after it was adopted by the Swiss mathematician Leonhard Euler in 1737.
"Our organization represents 48,500 farm families, and we all deeply appreciate that Governor Snyder recognizes the importance of Michigan agriculture," said Wayne H. Wood, president of Michigan Farm Bureau. "His consistent support of our industry has been a real source of pride, encouragement and security for those of us who work to provide food, fiber and energy here in Michigan, across the nation and around the world."
"Only through Michigan's superior fruits and crops can we make our wonderful pies. Denise and I would not have been able to craft these Michigan fruit pies into a growing business without the quality education we received in Michigan; both in the public school system and at Michigan State University," said Mike Busley, Co-Founder of Grand Traverse Pie Company. "Our commitment is to make amazing pie with purpose through the bounty of Michigan agriculture; and our economic responsibility is to give and to grow by cultivating positive relationships – just as we are doing with today on Pi Day."