GT Pie Co. pies available online from FoodyDirect
When a few folks who love good food hosted a Super Bowl party a few years ago, they ordered some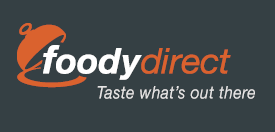 seafood from a restaurant in New England. The seafood was shipped across the country, was a big hit at the party, and FoodyDirect was soon born.
FoodyDirect is a website that scours the United States for great food that's available via delivery. Grand Traverse Pie Co. pies are proud to part of FoodyDirect, sitting alongside other tasty dishes from other corners of the country in many categories.
The website doesn't just offer menu items from the vendors it selects, they provide a marketplace to present the vendor and its mission. The Grand Traverse Pie Co. page on FoodyDirect contains more than 15 pies, shipping information, a photo gallery, baking and serving instructions, and even the story of how the Pie Company got their start.
Items are priced the same as they are on the GT Pie online shop and most shoppers are eligible for $9.95 flat-rate shipping.