Delicious Raspberry Lemon Silk Pie is available through September 1st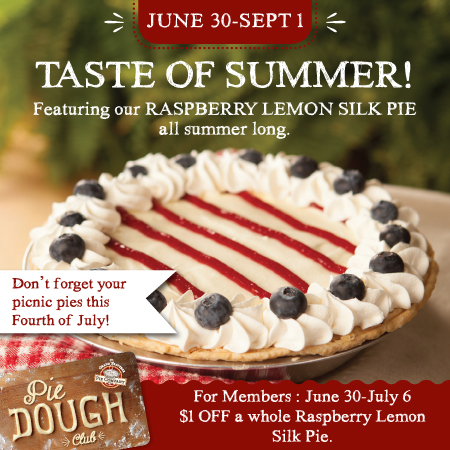 Summer is finally here, and the Grand Traverse Pie Company has the perfect pie for your summer picnics, events, and just dessert any time!
Our new Raspberry Lemon Silk Pie is a wonderful blend of flavors for the summer months. This pie is available at our Pie Shops in Michigan and Indiana from June 30 to September 1.
As a special offer, our Pie Dough Club members get $1 off the Raspberry Lemon Silk Pie from June 30 to July 6. Learn about the benefits of being a Pie Dough Club member (free pie on your birthday, for example!).
This summer and this 4th of July, visit Grand Traverse Pie Company to get your pies, desserts, and catered items such as sandwiches, wraps, pot pies, salad and more.