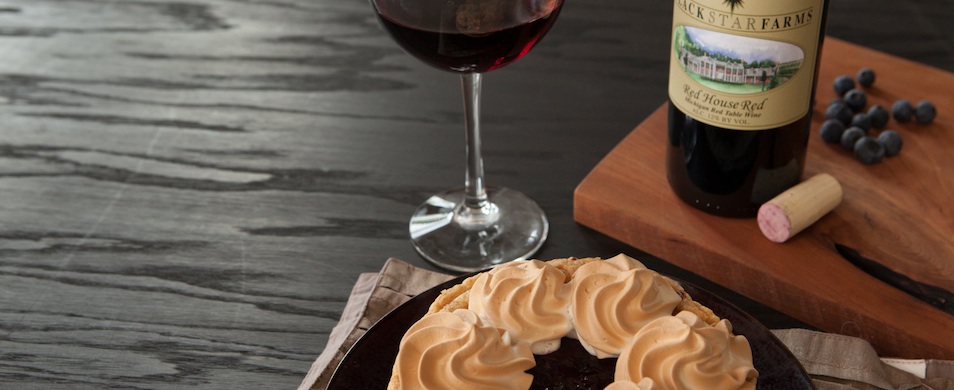 Celebrate the bounty of Northern Michigan with Red Wine and Blue Pie
Grand Traverse Pie Company and Black Star Farms meld Michigan Agriculture – Wine Grapes and Blueberries!
We are as proud of Michigan as ever! Help us celebrate the 2014 Harvest Season throughout the month of October with a special 6" Red Wine and Blue Pie as part of our Fusion Pie Series. Fusion Pies offer a powerful twist using Michigan products, pairing bold and exciting flavors, spinning them throughout the pie.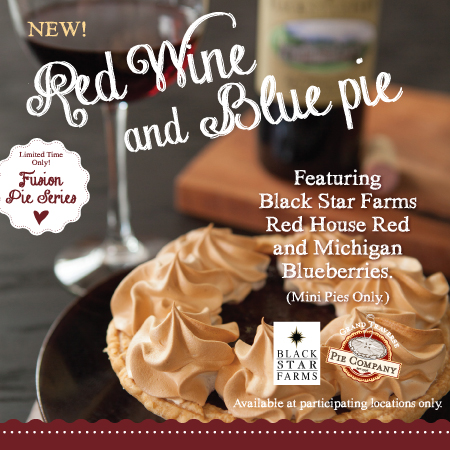 In the Red Wine and Blue Pie, to the flaky handmade crust at the bottom, is a layer of red wine infused filling then a layer of blueberry red wine topping all created with Black Star Farms Red House Red Wine. Finished with a light meringue this Fusion Pie has the flavor of red wine touching the taste buds throughout, with uniqueness's unmatched in any other pie…and it's topped with a great Michigan story!  "We believe in Michigan agriculture and salute our state's great reputation for making award winning wines," said Grand Traverse Pie Company founder, Mike Busley.  "We are proud to partner with Black Star Farms to celebrate two great Michigan flavors blending together, pie and wine."
Seven of our Grand Traverse Pie Company Shops will be participating in making Red Wine and Blue pies! Please visit:
We hope you love our Red Wine and Blue fusion pie!