GT Pie Co Teams Up With Michigan Agriculture & Education to Celebrate Pi DAY
Announcing an EPIC Pi Day this year at all Grand Traverse Pie Company shops. Pi Day, March 14, 2015 (3.1415), Grand Traverse Pie Company is proud to once again team up with Governor Rick Snyder, the Michigan Department of Agriculture & Rural Development (MDARD) and various agriculture partners, in encouraging Michiganders to celebrate math, education, and agriculture. This Pi Day is a "once in a lifetime" event as this year's date aligns with the first five digits of Pi, 3.1415.
MDARD, Michigan Farm Bureau, Michigan State University College of Agriculture and Natural Resources, United Dairy Industry of Michigan, Michigan Pork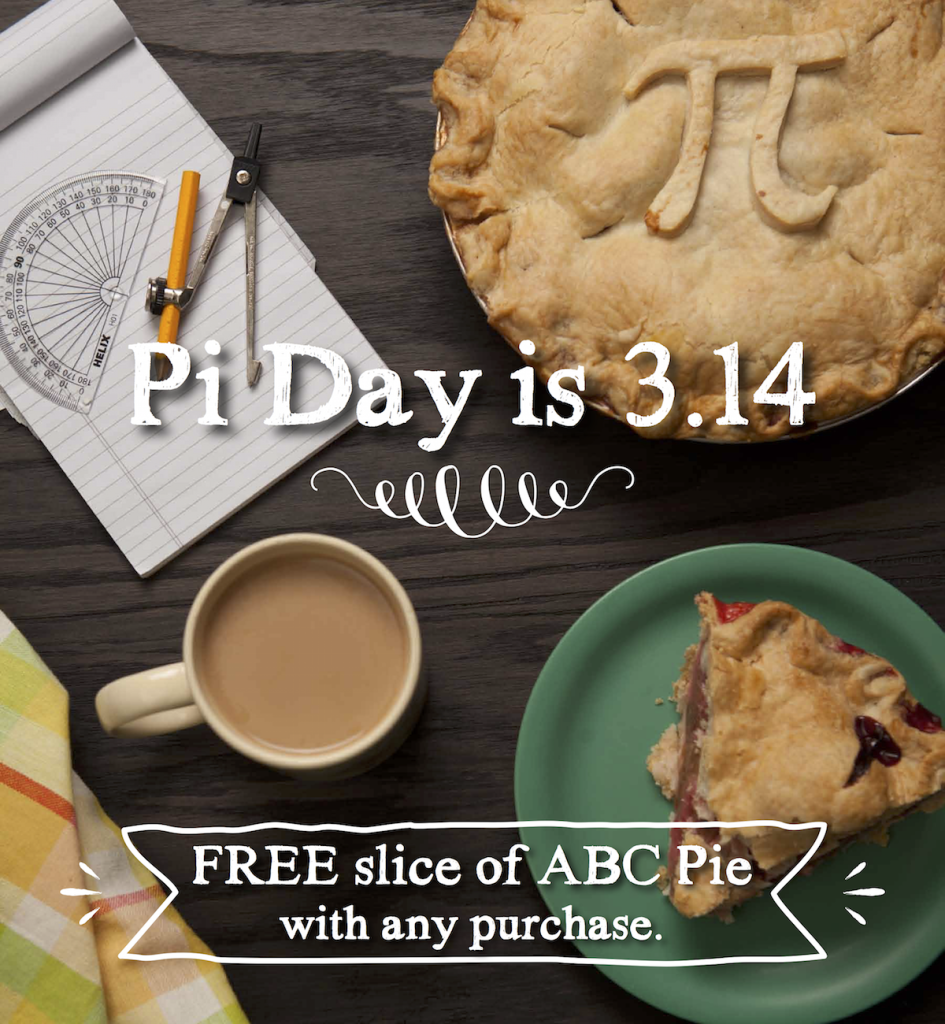 Producers, Michigan Economic Development Corporation (MEDC) and the Michigan Ag Council are all celebrating 'Food and Agriculture Month' in Michigan. As part of this celebration they are teaming up with Michigan based Grand Traverse Pie Company to commemorate this EPIC Pi Day. Every Grand Traverse Pie Company location will be serving up a FREE slice of ABC pie with any purchase, made fresh with Michigan Apples, Blueberries and Cherries, during the entire day on Pi Day 3.1415, Saturday, March 14th.
"We're pleased to be teaming up with the Grand Traverse Pie Company. Their commitment to Michigan farmers and businesses, as well as their employees, is outstanding. We're fortunate to have a company like this as part of Michigan's food and agriculture system as we strive to increase the total economic impact on the state's economy past $100 billion," said Jaime Clover Adams, MDARD director.
Pi, Greek letter (π), is the symbol for the ratio of the circumference of a circle to its diameter.
Pi = 3.1415926535…With the use of computers, Pi has been calculated to over 1 trillion digits past the decimal. Pi is an irrational and transcendental number meaning it will continue infinitely without repeating. While only a handful of digits are needed for typical calculations, Pi's infinite nature makes it a fun challenge to memorize, and to computationally calculate more and more digits. This year's date aligns with the first five digits of Pi, 3.1415. Pi Day is the perfect time for educators and students to celebrate together, commemorating the importance of math in the classroom, from elementary to high school. GTP is adding to the fun by offering prizes for those that post a video reciting as many numbers of Pi as possible in 15 seconds.
"It only happens once every 100 years. This is a once-in-a-lifetime event," says Mike Busley, co-founder of Grand Traverse Pie Company. "We are honored to help shine a light on the quality of both the agricultural bounty of our state and the important role that education plays within our state on Pi Day. Only through Michigan's superior fruits and crops can we make our wonderful pies. Furthermore, Denise and I would not have been able to craft these Michigan fruit pies into a growing business without the quality education we received in Michigan; both in the public school system and at Michigan State University. We are passionate about making a heartfelt positive impact on those we serve; our commitment is to make amazing pie with purpose through the bounty of Michigan agriculture."
Grand Traverse Pie Company (GTPC) is committed to celebrating Michigan. GTPC makes over 95% of its purchases from Michigan companies and promotes two of the State's key ingredients – agriculture and commerce. Michigan fruit – cherries, apples, blueberries, sugar, and flour all come from our State's growers and processors, and GT Pie will drive nearly $20 million into the Michigan economy this year.
Grand Traverse Pie Locations include:
Ann Arbor – Zeeb Road (734) 997-9702
Brighton (810) 225-7437
East Lansing – (517) 203-3304
Grand Rapids – Kentwood (616) 977-7600
Lansing (517) 316-0900
Midland (989) 839-4872
Norton Shores (231) 799-3399
Okemos (517) 381-7437
Plymouth (734) 459-9200
Portage (269) 903-4991
Terre Haute, IN (812) 235-1582
Traverse City – Two Locations in Downtown TC (231) 922-7437
Troy (248) 458-0322
Grand Traverse Pie Company Corporate Office:
525 West Front Street
Traverse City, Michigan 49684
Phone: 231-929-7841