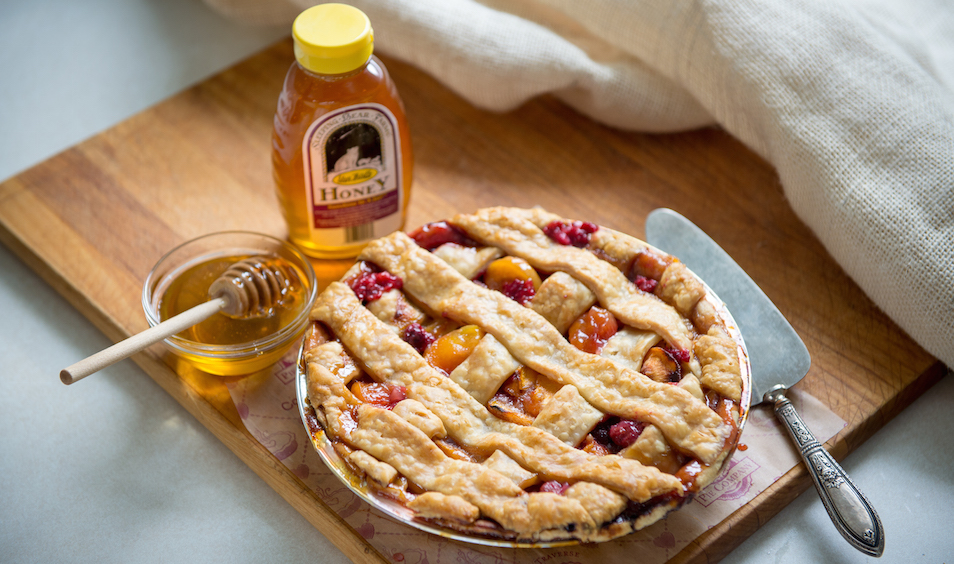 Introducing Mom's New Favorite – Peach Raspberry Honey Pie
Pie is meant for sharing. Pie connects people. Pie makes people happy. And happy people, especially happy moms, make the world a better place! We created a special pie for moms. Maybe that's you or your mom, your second mom, your aunt that is really like a mom, your best friend's mom, or your grand mom – there are so many people in our lives that we call "mom" and love like a mom!
Your "mom" would love a Peach Raspberry Honey pie for Mother's Day, Sunday, May 8th! This pie is sweetened only with Michigan Star Thistle Honey from Sleeping Bear Farms in Northern Michigan. It's packed with sliced peaches and luscious raspberries, and then finished with a beautiful dough lattice top and another squeeze of honey.
Just for mom…. another GT Pie Fusion pie where Michigan partners and products come together to create a flavor all its own. We think it's a beautiful way to tell your "mom" that she is special and that you love her.
All of our pies are handmade fresh every day by our bakers. The bakers at our shops are proud to serve you; you could say our sweet spot is making amazing pies that deepen your relationships and bring positive impact in your life.
Peach Raspberry Honey Pie is available May 6th through May 31st giving you all month to celebrate mom!