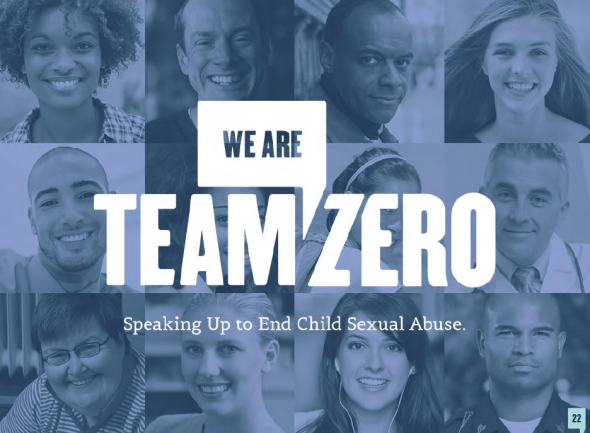 Team Zero and the Power of Pie
Many of our Grand Traverse Pie Company (GT Pie) guests and friends know that child sexual abuse intervention and prevention is an issue that is very important to us. Did you know one in four girls and one in six boys are sexually abused before the age of 18? 80% of these incidences go unreported and 90% are perpetrated by people we know and trust.
Once we learned of this issue we asked ourselves how can we NOT know? The answer is we can't. We wanted to do something to change this; Denise Busley, co-founder of GT Pie, has been instrumental in her passion to help make people aware of the issue and to want to care about stopping this pandemic.
GT Pie is honored to have the Power of Pie,  where people, passion and purpose are part our communities.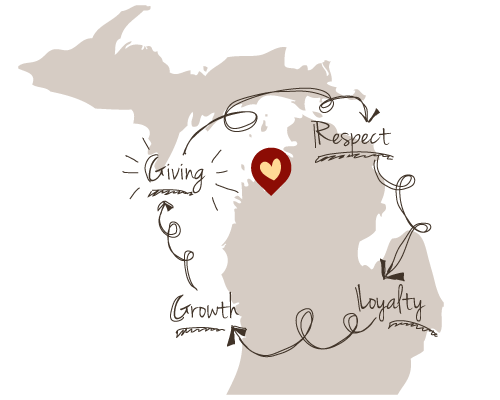 It starts with being a well respected Michigan brand and with that respect comes loyalty from our employees, guests and business partners. Loyalty promotes growth and our growth allows us to give back-we call this our Delicious Cycle.
Over time, GT Pie has donated funds from the Downtown Traverse City Community Shop to help the Traverse Bay Children's Advocacy Center (TBCAC) . The TBCAC is a safe haven for children and families suffering from the trauma of sexual abuse, physical abuse, and witness to violence. It is a community based, child-focused and child-friendly facility in which representatives from many disciplines, including law enforcement, child protection, prosecution, mental health, medical and victim advocacy professionals, work together to investigate abuse, help children heal from abuse, and hold offenders accountable. With the help of many others in the Grand Traverse region we have a solid INTERVENTION process through the TBCAC.
We think one incidence of child sexual abuse is too many and we are now reaching out to teach people how to keep our children safe which is the key to ending child sexual abuse, PREVENTION.
That's where TEAM ZERO comes in. TEAM ZERO, a new program of the TBCAC, is an ever-growing collective of individuals and organizations committed to bringing the rate of child sexual abuse in our region to… ZERO. GT Pie is a proud member of TEAM ZERO.
We want to be a part of a community where adults know how to:
TALK with children about bodies and boundaries, "body safety" is a subject suitable for all ages.
PROTECT children from sexual abuse.  Understand how it happens and limit the risk for it to occur, trust your gut when something feels wrong will go far.
REPORT suspicious behavior.  Child sexual abuse will end when perpetrators know for certain that all adults can recognize and report suspicious behavior.
You can find out more about Team Zero and how to join by contacting the Traverse Bay Children's Advocacy Center.  For more information on child sexual abuse go to The Mama Bear Effect.