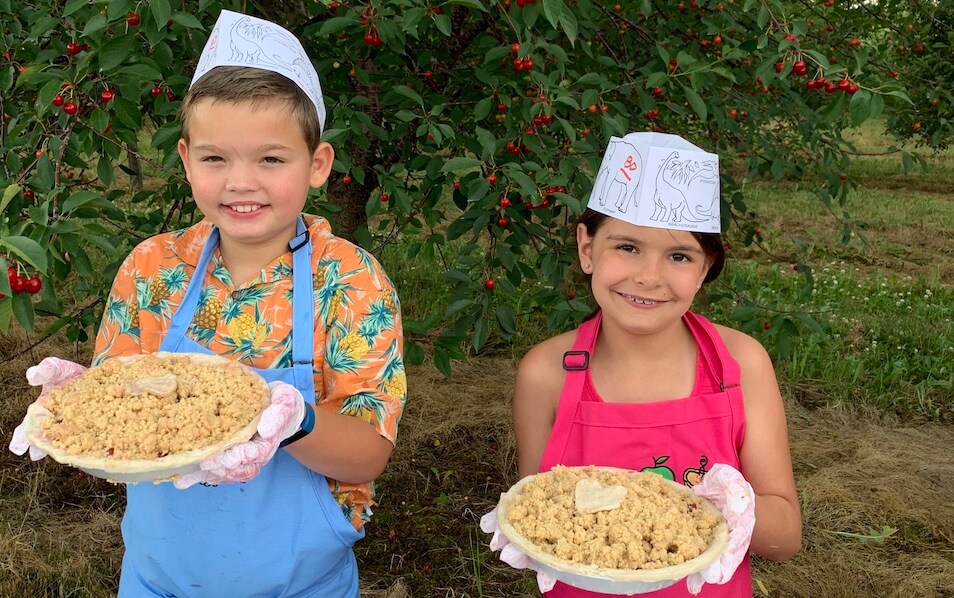 Join GT Pie & the National Cherry Festival to 'Make & Bake' Your Own Cherry Crumb Pie Virtually
Note: If you missed our virtual event, you can still purchase a 6″ or 9″ Cherry Pie Make & Bake Kit in any of our shops and watch our recorded Facebook Live video. (Click here)
Celebrate Cherry Pie and Families With Us!
In the spirit of tradition, Grand Traverse Pie Company and the National Cherry Festival are celebrating the cherry harvest and families with its annual Cherry Pie Make and Bake – this year virtually. The virtual event will take place on Thursday, July 9th at 1:00 pm through the National Cherry Festival's Facebook Live.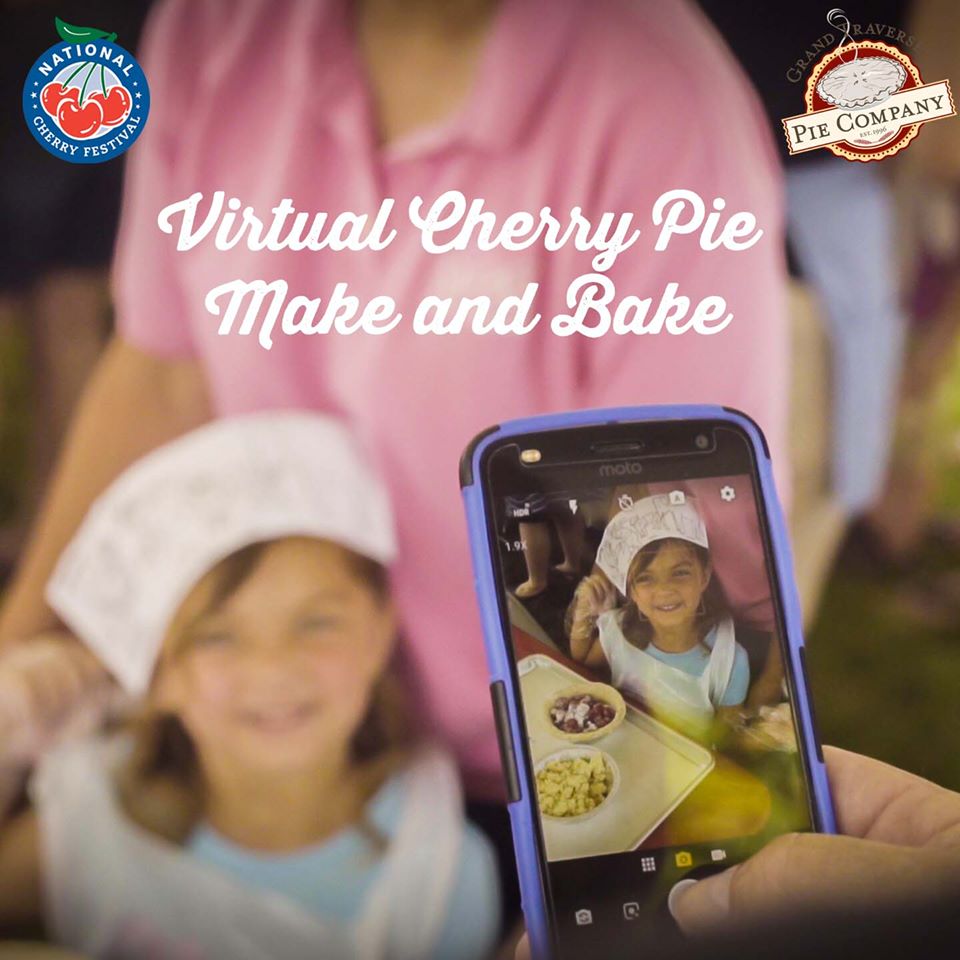 Here's How it Works:
(Note: Registration for a free kit has reached capacity but you can still purchase 6″ or 9″ Cherry Pie Kits anytime from any of our Grand Traverse Pie Company locations.)  Register online at https://www.cherryfestival.org/events/2020/virtualmakenbake for a FREE Make & Bake Cherry Pie Kit to pick up from your local Grand Traverse Pie Location. Free pie kits are limited to the first 600 registered people. Limit one (1) pie per family, please.
Pick up your 9-inch Cherry Pie Kit from the GT Pie shop where you registered on July 7th & 8th between 11:00 am and 5:00 pm.
Tune in to the National Cherry Festival Facebook Page on July 9th at 1:00 pm and bake alongside the Grand Traverse Pie Company founders Mike and Denise Busley.
Grand Traverse Pie Company will donate $5 to a local Children's Advocacy Center for the first 300 people that register to Make and Bake with the Festival and GT Pie families.
"We are thrilled to be able to celebrate cherries, the Festival, and children across our Pure Michigan state. In these unprecedented times, it is important to support children and families. We believe that our prized Michigan bounty – the cherry – gives us that opportunity. Kids and families will be able to not only learn how to Make and Bake their own signature cherry crumb pie they will see firsthand a working cherry farm," said Mike Busley, Co-founder of Grand Traverse Pie Company.
Additionally, Cherry Pie Make and Bake Kits will be available for purchase in all Grand Traverse Pie shops beginning July 1st complete with instructions on how to bake your own Cherry Crumb Pie, the signature pie of the National Cherry Festival.
The virtual event will take place on the Sayler farm located in Grand Traverse County. There will be a special appearance during the event by National Cherry Queen Sierra Moore.
For more information on the National Cherry Festival, Virtual Make and Bake, or other Festival events being celebrated this year visit CherryFestival.org.