Traverse City filmmakers premiering "Connected by Coffee"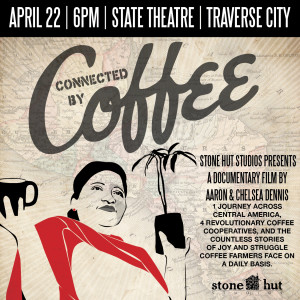 Connected By Coffee, an independent documentary, makes its world premiere in Traverse City, MI on Earth Day, April 22, 2014 at The State Theatre. The film will tell the story of Latin American coffee farmers and how our daily brew is deeply connected to that region's troubled past and hopeful future. Connected By Coffee is produced by Stone Hut Studios, a film company helmed by husband and wife team of Aaron and Chelsea Dennis and dedicated to creating "films for a better world."
Director Aaron Dennis says, "Worldwide, over 1.6 billion cups of coffee are consumed daily, but most people don't think about what goes into making it. Each cup takes about 70 beans, all of which are hand-picked by a real person. Despite the enormous wealth the coffee trade generates, most coffee farmers see very little of that money and often live in poverty. They typically make less per day than we spend on one cappuccino. In this film, we'll witness how coffee is changing from a tool of oppression into a tool for empowerment, and how it is transforming small scale coffee growing communities across the world."
In January of 2013, Stone Hut Studios teamed up two U.S. coffee roasters on a 1000-mile journey across coffee growing regions from Mexico to Nicaragua, meeting with small-scale farmers along the way and hearing their stories.
Chris Treter of Higher Grounds Trading Company is one of those roasters. Treter notes, "Nationally there is a groundswell of grassroots support aimed at connecting growers with consumers. This story will show consumers the men and women who produce their coffee, and how consumers can make a difference in their lives by the purchases they make and organizations they support."
Aaron Dennis adds, "Connected By Coffee shows a situation where historically there has been a great deal of injustice, but now there is a model for hope through cooperatives and alternative trade. Today these coffee farmers and fair-traders are working together to create a revolutionary business model that puts people and the planet first."
Producer Chelsea Dennis says, "I am so excited about this film, because it dedicates most of the time to the farmers' voices, letting them tell their own stories. These are voices that have never been heard and faces that are rarely seen. You really learn not only where, but from whom your coffee comes."
In 2012, Stone Hut Studios released the documentary The People and The Olive, about the Run Across Palestine – a 127 mile, 5-day ultra-marathon across the West bank organized by On The Ground, to support Palestinian fair trade olive farmers. The Boston Globe called the film 'an inspirational thriller', and it has appeared at dozens of film festivals and screenings across the world.
The premiere for Connected By Coffee is at The State Theater (233 E. Front Street) at 6 p.m. on April 22 – Earth Day! The screening is co-hosted by the On The Ground and Oryana Natural Foods Market. Independent singer/songwriter Miriam Pico will be opening the evening in a live performance.
A Q&A will follow the film, giving viewers a chance to interact with the filmmakers and Chris Treter of Higher Grounds.
An after-party will continue at The Workshop Brewing Company after the Q and A with live music.
Tickets will go on sale in April at The State Box Office or online at http://www.statetheatretc.org/
More information about the film can be found at www.ConnectedByCoffee.com