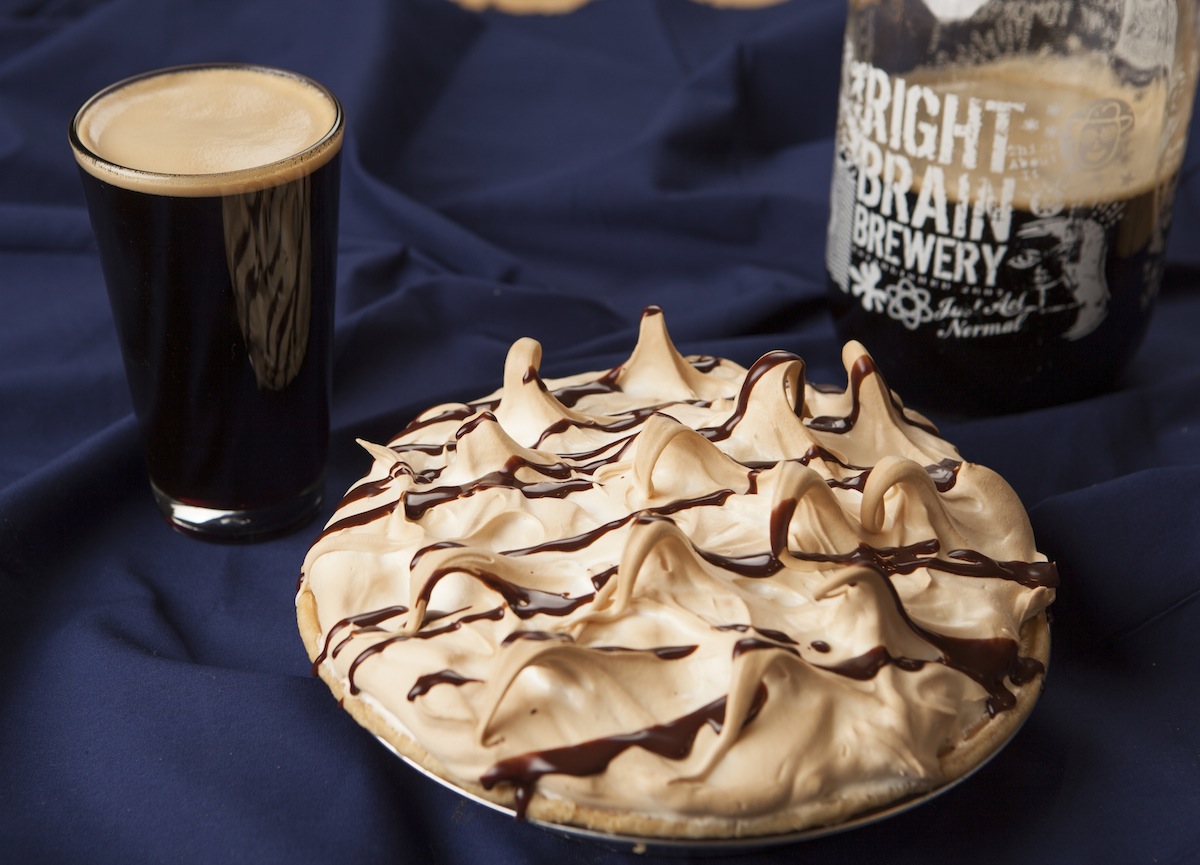 GT Pie Co. teams with Right Brain Brewery to create "Chocolate Stout Pie"
Just when you thought you've tasted it all, along comes a pie that will amaze your taste buds.
Are you a fan of chocolate? Are you a fan of great beer?
If you answer a resounding YES to those questions, then you'll love the new pie creation from our pie masters and the brew masters at a Traverse City brewing company, coming soon to our pie shops. The Grand Traverse Pie Company and Right Brain Brewery have teamed to create a new "Chocolate Stout Pie" that's available at GT Pie Company locations for a limited time.
The Chocolate Stout Pie is a chocolate lover's dream: a layer of chocolate ganache, a layer of chocolate mousse, topped with meringue drizzled with…you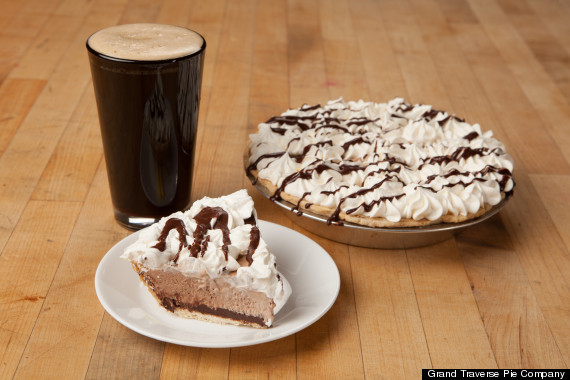 guessed it…chocolate stout ganache! Holy moly, it's delicious.
The mousse and the ganache are both infused with Stout beer brewed by Right Brain Brewery in Traverse City, Michigan. Located just a few blocks away from the corporate headquarters of the Grand Traverse Pie Company, Right Brain is a beer lover's mecca, and their brewmasters are geniuses when it comes to all things beer.
Featured on Huffington Post Taste Channel
The pie was recently featured nationally by The Huffington Post, who called it "a pretty perfect pie, in our opinion."
"The beer flavor is subtle but definitely apparent — it brings depth to the already layered chocolate flavors," The Huffington Post wrote in their review, "and a faint bitterness that is welcome with all the sweetness. The pie is not overwhelmingly sweet, however, which enables the distinct flavors to stand out. Somehow it doesn't feel heavy either."
Free Pint Glass with purchase of a pie for Pie Dough Club members
The Chocolate Stout Pie is available for a limited time and it comes with a special offer: purchase a whole pie and get a free pint glass when you're a member of our Pie Dough Club. This is the perfect gift for Dad for Father's Day!
Contact your local Grand Traverse Pie Company for information on availability, there are 15 locations in Michigan and Indiana. You can learn more about Right Brain Brewery here.