Hudson's Maurice Salad makes a comeback to the fall menu
Come to Grand Traverse Pie Company and try our Limited Time Menu items made just for you. From September 5th through January 7th enjoy our four Fresh Fall Favorites offering an array of new flavors.
First, the Hudson's Maurice Salad is making a comeback at the Grand Traverse Pie Company! For those that remember the downtown Detroit Hudson's, the store prided itself on stocking everything from grand pianos to spools of thread and housed many culinary treats for hungry guests. One menu item from Hudson's, in particular, was the Maurice Salad. Who was Maurice? Some say he was a chef at Hudson's, where this salad made its debut, though no one knows for sure. While Maurice's identity may have faded into obscurity, his chef's salad with a lemony-mayo dressing remains very popular.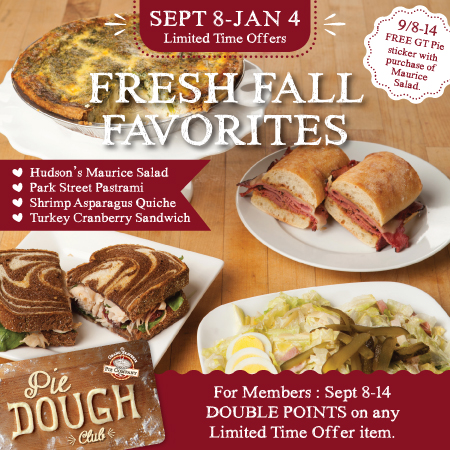 For all of you quiche lovers we have a new Shrimp Asparagus variety. Quiche is a wonderful combination of eggs, milk, and cream baked in our homemade, flaky crust…savory pie made fresh daily, what could be better.
Try our new Park Street Pastrami sandwich or back by popular demand, our Turkey Cranberry Grilled Sandwich. This holiday sandwich is topped with sage cream cheese, cranberry relish and fresh spinach grilled on marbled rye…WOW!
Visit any of the 15 Grand Traverse Pie Company shops after September 5th and treat yourself to some wonderful new favorites.
Come for our pie, stay for our food!