Through the Power of Pie and Community, GT Pie Company aims to help end child sexual abuse
The Grand Traverse Pie Company is continuing their efforts to be an active part of the communities where they have pie shops, and with that mission, they aren't shying away from even the toughest problems that face those communities.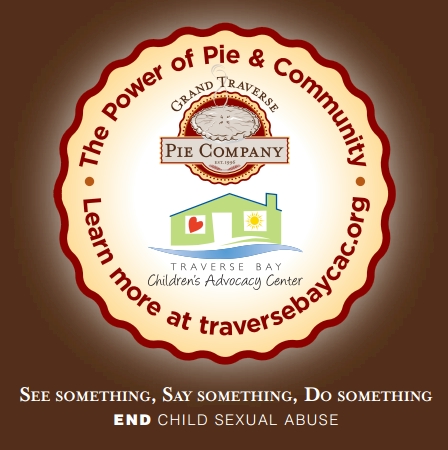 "Pie warms and opens hearts, and when you have an open heart you can talk about tough issues, such as keeping our kids safe," says GT Pie Company co-founder Denise Busley.
For nearly five years, Denise and her husband and co-founder Mike Busley have led the GT Pie Company to support the prevention of child sexual abuse, a serious problem facing too many children and families.
"One in ten people will be sexually abused as children. When we talk about this problem, we can help many children," Denise says.
Grand Traverse Pie Company is committed to two things:
Promoting a conversation about this very serious issue, and
Helping to get the tools out there to help address child sexual abuse
Through "The Power of Pie and Community," GT Pie Company is working with experts at Michigan State University and organizations such as Traverse Bay Children's Advocacy Center (CAC) to educate the community and families about this issue. Further, GT Pie Company is partnering with Darkness to Light (http://d2l.org) to spread educate and give people the information and training they need to prevent or halt child sexual abuse. In addition, by working with CAC (http://traversebaycac.org) in local communities like Traverse City, GT Pie Company is helping their efforts to assist more than 600 sexually abused children over the last five years. Educational tools such as "See, Say, and Do" give people a plan for handling this difficult problem. Adults are encouraged to attend training sessions to learn how to spot the signs and deal with this issue should it arise.
Since GT Pie Company was founded 18 years ago with one pie shop in Traverse City, they have grown to 15 pie shops across Michigan and Indiana. Child sexual abuse is an issue that knows no boundaries and unfortunately can strike anywhere in any state in any country. Through the community and civic leadership of the Grand Traverse Pie Company and Denise and Mike Busley, the fight is on to eradicate this problem and protect the most precious members of our communities — our children.
Learn more:
Children's Advocacy Center and GT Pie Company handout on child sexual abuse: See, Say and Do