New gluten-free items arriving September 22nd
Starting September 22nd we are introducing our expanded line of Gluten-Free baked goods and they are OH SO GOOD! Come in and try one for yourself. You don't need to be on a gluten-free diet to love these.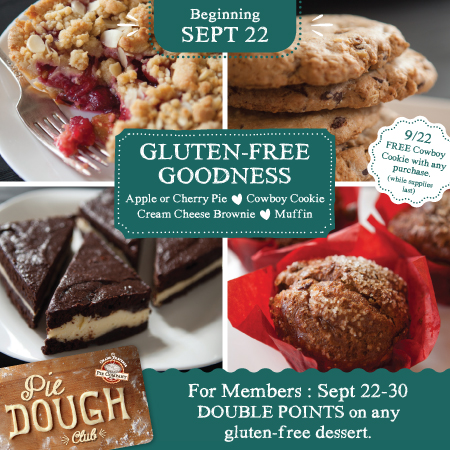 On September 22nd the kick off of the new baked goods will begin with a Cowboy Cookie. It's a chewy, oatmeal cookies stuffed with nuts, coconut, and chocolate chips, and enhanced with a hint of cinnamon. Come in on the 22nd and we will treat you to a Cowboy Cookie to try on us!
Also available in our Gluten-Free baked line are our Cream Cheese Brownies, rich chocolate layers on top and bottom of a luscious cream cheese filling as well as Apple Muffins and two new 6" Gluten-Free Pies. Yes, you heard it – gluten-free pies at Grand Traverse Pie Company!
Our new mini Gluten-Free Pie is available in Apple and Cherry, our two most popular pie flavors. The pies are started with a shortbread pie crust, and then a tart cherry or apple cinnamon filling all finished with a sliced almond and crumb topping.
Come and try our gluten-free baked items as well as our other gluten-free food menu options today at your local pie shop.
"Gluten-Free" at GT Pie follows the FDA regulation of less than 20 parts per million.