More Gluten-Free Goodness at GT Pie
There's even more Gluten-Free Goodness to love at GT Pie! We have once again expanded our line of gluten-free baked goods. Beginning in January you can enjoy our newest creation – our gluten-free chocolate cream mini pie! We now offer gluten-free cherry crumb, apple crumb, and chocolate cream available in our six inch mini pies. Come in and try one for yourself. You don't need to be on a gluten-free diet to love these.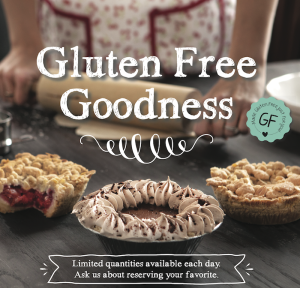 Like our gluten-free cherry and apple crumb pies, the chocolate cream pie is made with a handmade shortbread crust. The chocolate cream is a blend of semi-sweet and unsweetened chocolate finished with a delicious chocolate whip topping and completed with chocolate shavings.
Also available in our gluten-free baked line are Cowboy Cookies, Cream Cheese Brownies, and Apple Muffins. Come in and try our gluten-free pies, baked items, as well as our other gluten-free food menu options today at your local pie shop. You can even call ahead to reserve your favorites.
"Gluten-Free" at GT Pie follows the FDA regulation of less than 20 parts per million.