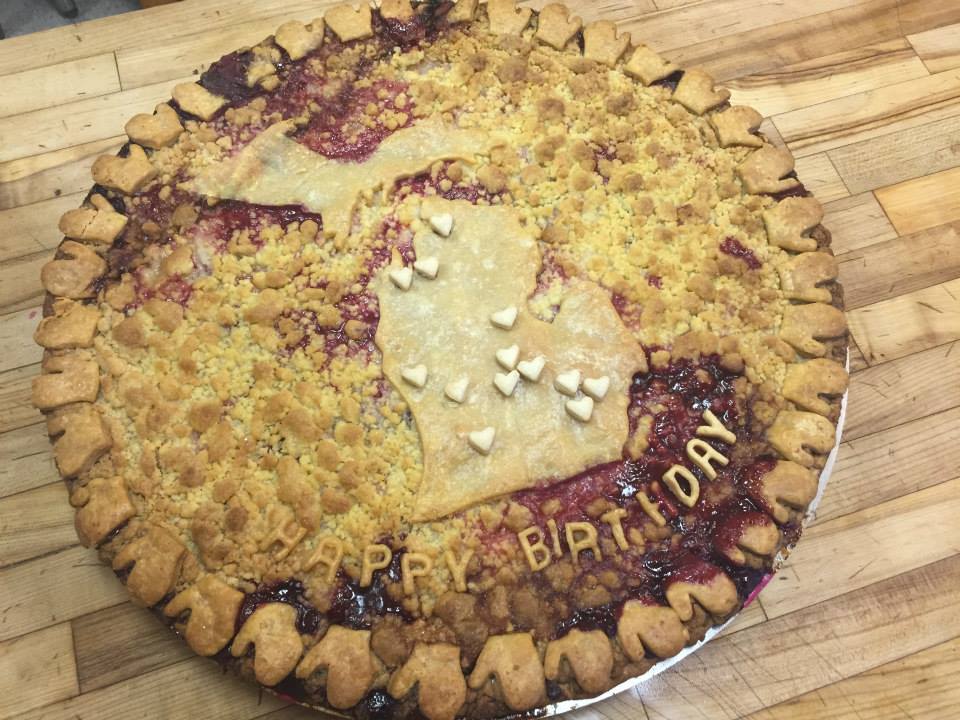 Brighton Pie Shop Bakes Giant Michigan Birthday Pie
Did you know Monday, January 26th is Michigan's 178th Birthday?! To celebrate the important holiday, our pie shop in Brighton created an awesome pie for the Awesome Mitten's Birthday Bake Off.
This beautiful Michigan birthday pie is our famous Michigan ABC Crumb Pie – a combination of Apples, Blueberries, and Cherries. Our Grand Traverse Pie Company pie shops all
use real locally sourced fruit; our cherries come from Montmorency County, our blueberries from Grand Haven, and northern Michigan spy apples. Don't let the photo fool you – this pie is a huge 20″ in diameter and weighs around 30 pounds!
Our talented baking team at our Brighton, Michigan pie shop was led by Kelly Gaither, bakery manager, Stephanie Krogstad, baker, and along with shop owners Gail and Lou Denski. The team created the pie by delicately cutting out the upper and lower peninsula from our pie dough and then cutting out hearts to represent the locations of all the 14 Grand Traverse Pie Company stores in Michigan. They also cut out little mittens and used them to line the outside edge of the pie. The pie took a total of 2 and 1/2 hours to bake and feeds around 100 people.
Don't forget to vote for our pie in the Awesome Mitten's Birthday Bake Off! Simply 'Like' our entry on their Facebook page before Monday, January 26th.