What's the Buzz? A New Apple Honey Pie!
Grand Traverse Pie Company Unveils New Michigan Fusion Pie Apple Honey Pie on 'National Pie Day'
Have you been hearing a buzz in our shops about a brand new pie? We're proud to say that it's here! The new Apple Honey Pie was just unveiled yesterday on National Pie Day!
This new Michigan made pie is hand crafted in each of our 15 pie shop locations with Northern Michigan Spy Apples, Michigan flour, and the sweetest part of this Michigan Fusion Pie is its Michigan Star Thistle Honey from Sleeping Bear Farms located in Benzie County. Sleeping Bear Farms is one of the nation's largest producers of Star Thistle Honey and its bees are responsible for pollinating much of the fruit in Leelanau, Benzie, and Grand Traverse Counties.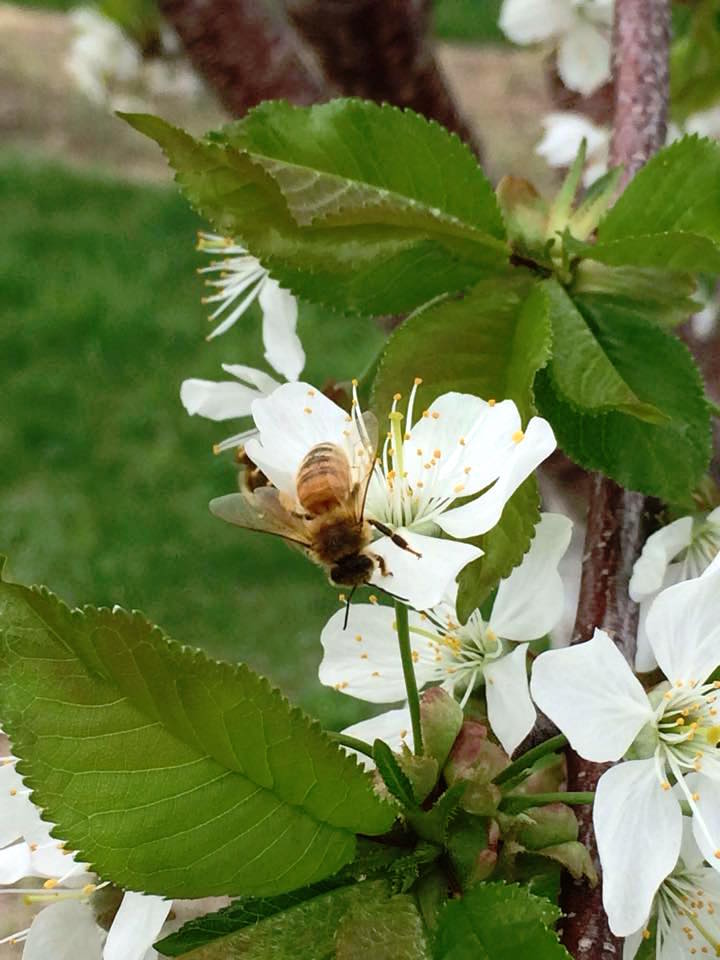 For over 25 years Sleeping Bear Farms has been producing local honey in Beulah, located in beautiful northern Michigan. The Star Thistle Honey used in the Apple Honey Pie is their signature honey gathered from the nectar of the Star Thistle flowers that only grow in Northern Michigan in abundant quantities. Star Thistle is sunshine in a jar!™
"Our honeybees at Sleeping Bear Farms make the marvelous, Star Thistle honey, perfect for yummy pies! Our bees also pollinate apples used in Grand Traverse Pie Company pies in the heart of apple country here in northwest lower Michigan. Amazing!" said Kirk Jones, owner of Sleeping Bear Farms.
The 6" and 9" whole Michigan Honey Pies were sold for the first time yesterday on National Pie Day at each GT Pie Company location. Beginning today, slices of the new pie will be available starting at $3.99 per slice.
"Grand Traverse Pie Company lives up to the "Pure Michigan" brand promise, using home-grown products, like Michigan made honey from Sleeping Bear Farms. With locally sourced products, they deliver freshness, every day, and support local jobs and our economy," said David Lorenz, Vice President of Travel Michigan.
Did you know that our shops offer over 30 varieties of hand-crafted pie? Each GT Pie Company location has on site bakers, delivering the made-from-scratch, just baked taste of pie each and every day. Every pie is made with Michigan fruit and ingredients – all wrapped in a melt-in-your-mouth crust.
"Pie is part of America's desire for comfort food, not just pie that meets every sweet tooth's desire, but savory beef and chicken pot pies, pasties and quiche serve up comfort all year long too," stated Mike Busley, Co-Founder of Grand Traverse Pie Company. "We're honored to serve a bit of comfort each and every day through all sorts of pie. Any way you slice it, pie is America's comfort food," Busley is proud to say.
We would love for you to stop in and try this buzzworthy new pie and let us know what you think of the delicious honey flavor!