Win Free Pie in GT Pie's Pi Day Contest
Last year we had a lot of fun with the "epic" Pi Day (3/14/15)! We invited our friends to submit Pi Day videos for a chance to win $150 in pie along with bragging rights. We had LOTS of creative entries – some entrants sang their pi digits and some stood on their heads, while some repeated as many as they could in 15 seconds (our winner repeated 134 – wow!).
In honor of Pi Day on Monday, March 14 (3.14), we will be celebrating all day by serving a free slice of ABC (Apples, Blueberries and Cherries) pie with any purchase. We will also be introducing a NEW PIE – Bipartisan Pie!
To top off the Pi Day celebration, we will again run the very popular video contest offering prizes of $150 in GT Pie DOUGH gift cards for reciting Pi Digits. We are even upping the ante with free pie for a year to the most informative and entertaining video showing how Pi is used in our everyday lives.
Need some Pi inspiration?
Check out some of last year's entries on YouTube.
Every day until Pi Day we will share one of our favorite videos from 2015, keep checking back for more ideas… Check out this "Creative Pi Video" from last year!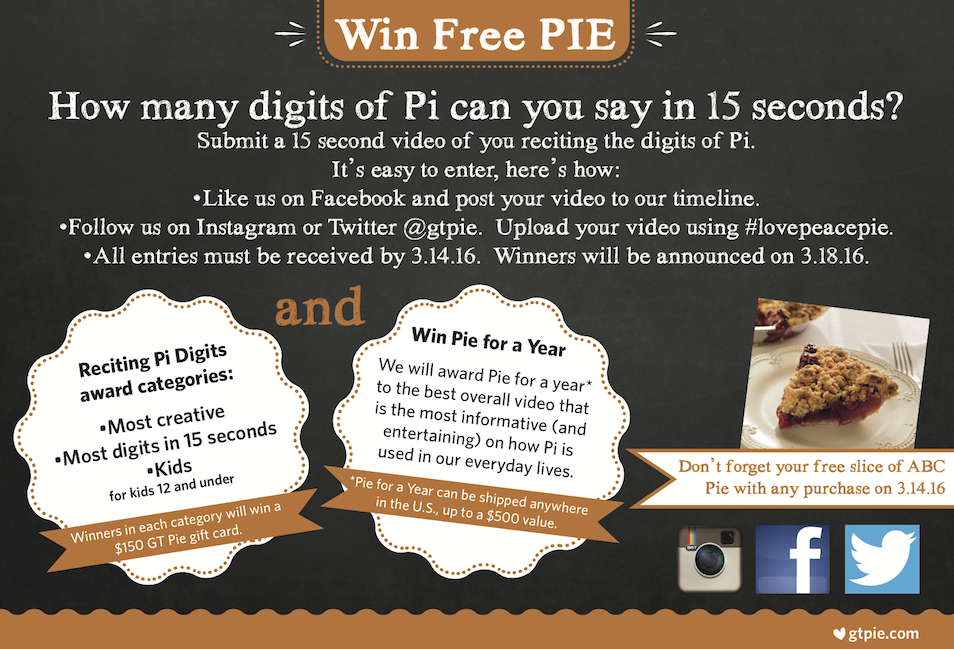 Reciting Pi Digits Award Categories (We'll be awarding $150 in GT Pie DOUGH):
Most Creative – foreign language, sign language, while doing a handstand, etc. Get creative!
Most Digits in 15 Seconds – Are you a Pi genius? Show us how many digits of Pi you can get in 15 seconds.
Kids – For kids 12 and under.
Win Pie For A Year:
We will award Pie For a Year* to the best overall video that is the most informative (and entertaining) on how Pi is used in our everyday lives. *Pie for a Year can be shipped anywhere in the U.S., up to a $500 value.
How to Enter:
Post a video directly on our Facebook page.
Share a video link on Twitter. Tag us using @gtpie and #LovePeacePie.
Post a video on Instagram. Tag us using @gtpie and #LovePeacePie.
Share a link on our blog post.
*Videos must be received by 3.14.16. Winners will be announced on 3.18.16*
Contest is in no way sponsored, endorsed or administered by, or associated with, Facebook, Twitter, or Instagram.
Happy Pi Day!