Introducing a Special Edition of 'Bipartisan' Pie
In honor of Pi Day, a day noted by math enthusiasts around the world, on Monday, March 14 (3.14) we will be celebrating all day by serving a free slice of ABC (Apples, Blueberries, and Cherries) pie with ANY purchase.
We will also be introducing a NEW PIE on Pi Day! At Grand Traverse Pie Company, we are always looking for creative ways to express ourselves through pie and love to "mix"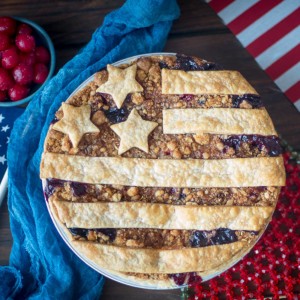 ingredients from other Michigan companies. The new pie is called Bipartisan Pie! Since this is an election year we wanted to make a pie that represents the upcoming voting season. Placing an emphasis on working better together to create positive outcomes for everyone we thought this year's Pi Day was the perfect day to do just that. The Bipartisan Pie is made with a mixture of Cherries (red) and Blueberries (blue), grown in Michigan, representing the two major political parties, Democrats and Republicans. The top of the Bipartisan Pie is customized with dough pieces representing America's splendor. Both 6" and 9" Bipartisan Pies will be available for sale in all shops and for shipping starting Pi Day, March 14th through March 31st.
"Since bipartisan means involving the agreement or cooperation of two parties that usually oppose each other's policies, we thought that our Bipartisan Pie represents the fact that when two parties (or fruit) come together the results can be much better than when working separately or on their own. We want to shine the light on the positive energy that should be a part of our election year." says Mike Busley, co-founder of Grand Traverse Pie Company.

"The world needs more pie. Pie is meant for sharing. Pie connects people. Pie knows no cultural or political boundaries. Pie makes people happy. And happy people make the world a better place. That's why the world needs more pie and our Bipartisan Pie was made to remind us of this fact," Busley is proud to say.
To top off the Pi Day celebration we will again run the very popular video contest offering prizes of  $150 in GT Pie gift cards for reciting Pi Digits and free pie for a year to the most informative and entertaining video showing how Pi is used in our everyday lives. To view some ideas see 2015 Pi Day video entries or here for Contest Details.
Pi, Greek letter (π), is the symbol for the ratio of the circumference of a circle to its diameter. Pi = 3.1415926535…With the use of computers, Pi has been calculated to over 1 trillion digits past the decimal. Pi is an irrational and transcendental number meaning it will continue infinitely without repeating. The symbol for pi was first used in 1706 by William Jones but was popular after it was adopted by the Swiss mathematician Leonhard Euler in 1737.
We are proud to be in our 20th year of making pie and we strive to be one of the state's most respected brands while making a difference in Michigan communities benefitting children and families, that's The Power of Pie.
We now offer over 40 varieties of hand-crafted pie. In fact, every GT Pie Company location has on-site bakers, delivering the made-from-scratch, just baked taste of pie each and every day.