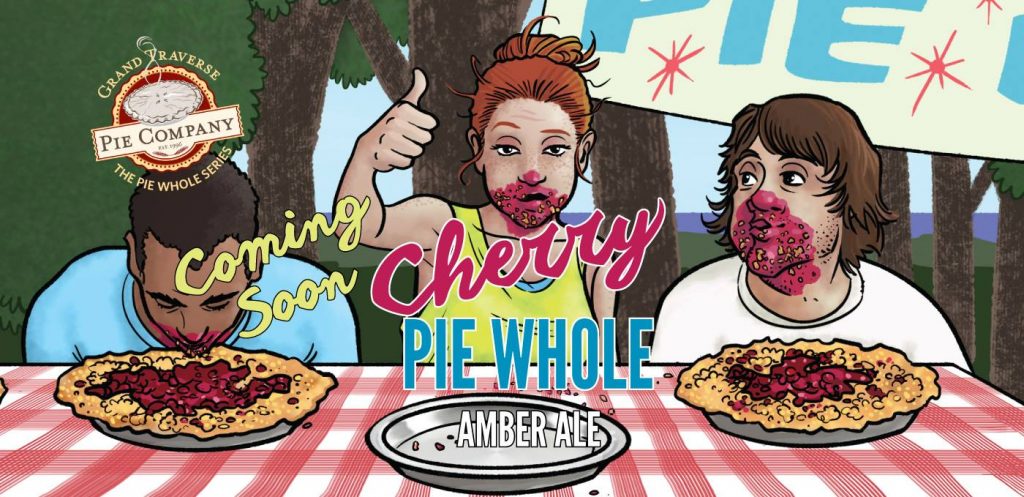 Cherry Pie Whole Beer Returns – The Rest of the Story
If you're like us you've been waiting since last summer for Right Brain Brewery's 2017 Cherry Pie Whole beer. We're ecstatic to announce Cherry Pie Whole will be tapped at Right Brain's pub on Friday, June 30th – just in time for the National Cherry Festival!
For the very first time, Cherry Pie Whole will also be available in bombers (22 oz bottles) beginning in mid-July as well as a limited distribution statewide. Check out the fun new artwork on the above label and watch for release announcements soon from Right Brain.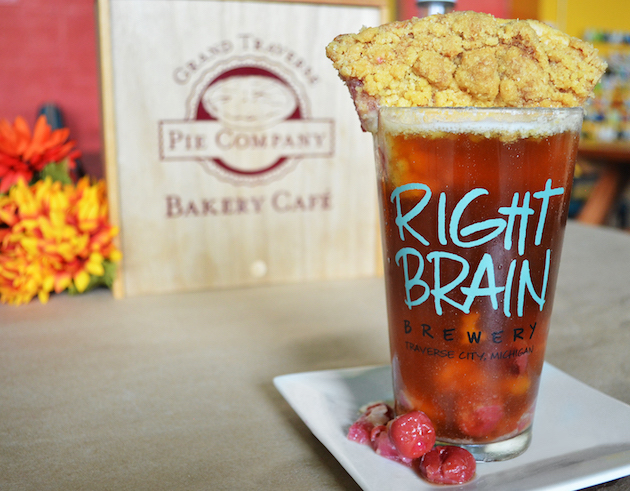 For those of you who are scratching your heads wondering "what is Cherry Pie Whole beer?" let us further explain. Cherry Pie Whole is a medium bodied amber ale brewed using whole cherry pies (yes – crust and filling) made by our bakers right here at Grand Traverse Pie Company.
Cherry Pie Whole's name describes the flavor too. Imagine pie crust straight out of the oven followed by a balance of caramel from the amber ale and tart sweetness from the cherry pie filling.
Everything has a story…
The idea for this series stemmed from a speech Right Brain owner, Russ Springsteen, gave at the University of Michigan where he discussed the creation of Right Brain's Great American Beer Festival gold medalist, Mangalitsa Pig Porter.
One of our co-founders was in attendance and asked Springsteen, "If you can brew a beer with pig heads and bones, why can't you brew a beer with whole pies?" "So, the rest of the story is a new partnership was formed," says Mike Busley, co-founder of Grand Traverse Pie Company. "Our partnerships with other Michigan companies like Right Brain are a great way to support entrepreneurial opportunities within the agricultural and food businesses of our state. Our initiatives with Right Brain support these values while promoting Pure Michigan's cherry and micro beer industry."
The Pie Whole Series
The Cherry Pie Whole beer is part of a series that will be brewed by Right Brain called the "Pie Whole Series," which includes Pecan Pie Whole and Apple Pie Whole which will be brewed and bottled in Fall 2017 and Winter 2018.
You can find the Right Brain Brewery tap room nestled in the SoFo District of Traverse City at 225 E. 16th Street. In addition to Cherry Pie Whole, you will find a large variety of one-of-a-kind beers using whole natural ingredients. Right Brain truly lives up to their slogan of Keep Beer Curious.
Cheers to the 2017 Cherry Pie Whole beer! See you on June 30th.
A behind-the-scenes look at the making of Cherry Pie Whole: