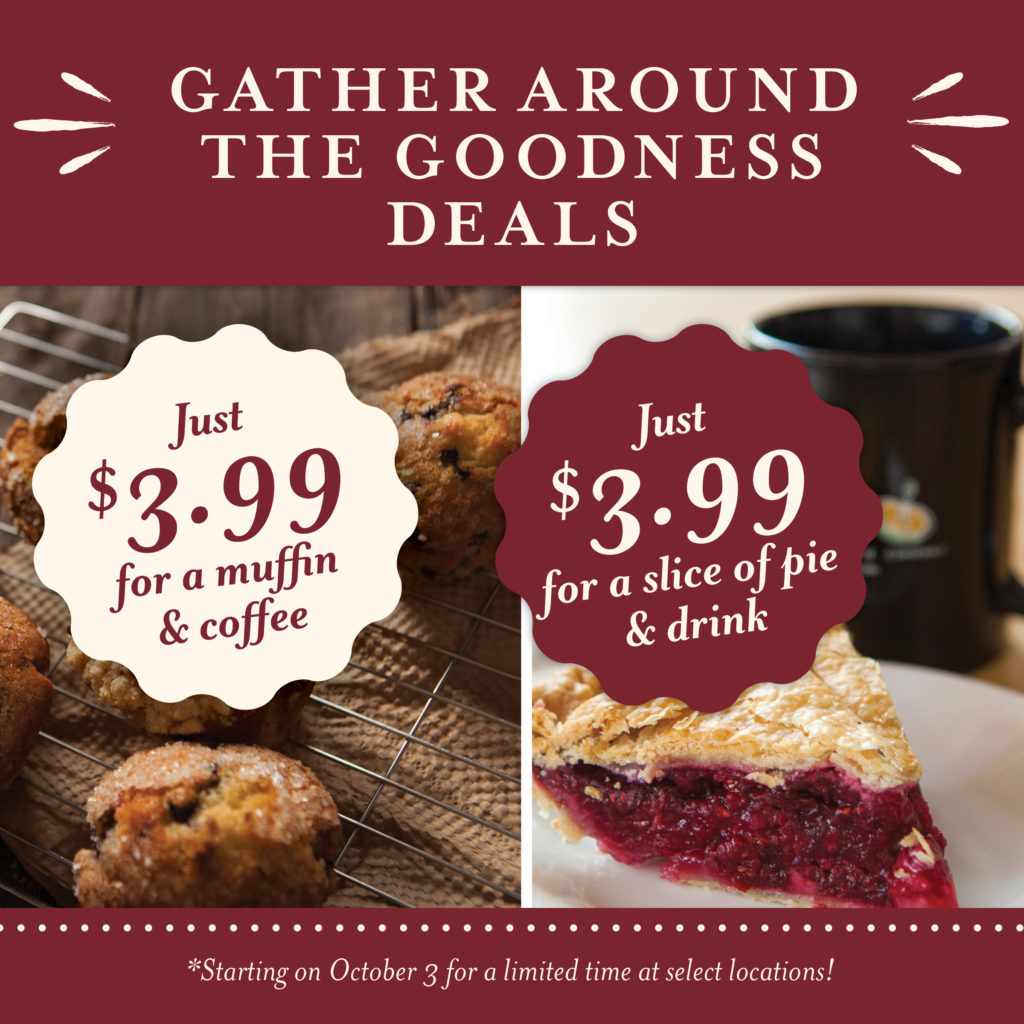 Enjoy Muffin Mornings and Happy Hour Deals this Fall
Gather Around the Goodness with Grand Traverse Pie Company All Day Long
Enjoy Muffin Mornings and Happy Hour Deals this Fall
(Traverse City, MI) October, 2022 – Grand Traverse Pie Company is sharing the goodness of pie this Fall season.  Guests visiting a participating GT Pie location from Opening to 11 a.m. can enjoy its Muffin Mornings deal – purchase a freshly baked Muffin and drink for just $3.99.  There's Michigan fruit muffins, and flavors of fall like pumpkin muffins to choose from.  Select a drink of your choice from coffee and tea to soft drinks.
Next on tap each weekday at participating GT Pie locations is Pie Happy Hour from 2 p.m. to 5 p.m. guest can enjoy a slice of handcrafted pie and a drink also for just $3.99.  Select from all time favorites of the season from Michigan Apple Crumb to any one of its highly touted Michigan fruit pies filled with berries, cherries and more.  All celebrating the bounty of Michigan.  Warm the heart and share the goodness with Pie.
Continuing its popular Grab and Go deal guests that purchase a featured Grab and Go item at select GT Pie locations will receive a $8.00 gift card good for the next purchase at any pie shop location. The featured Grab and Go items include GT Pie's bestselling 9" Chicken Pot Pie, a variety of Quiche each made with the freshest of ingredients, and 9" unbaked pies.
"Our Fall Limited Time Offers make it more affordable than ever to enjoy the comforts of our handcrafted baked goods and foods for at home," stated Mike Busley, Co-Founder of Grand Traverse Pie Company. "We're honored to serve a bit of comfort each and every day through all sorts of pie even our delicious chicken pot pies and quiche.  Any way you slice it, pie is America's comfort food, and we are thrilled to share the goodness through our convenient grab and go option," Mike went on to say.
In addition to making over 40 varieties of handmade pie, Grand Traverse Pie Company offers breakfast, lunch, and dinner focusing on craveable comfort foods including Chicken Pot Pie, signature soups, and heartwarming quiches – all in conveniently available to enjoy in the pie shop or take along with you from the Grab and Go case.
Visit gtpie.com to ship your favorite pie to friends and family across the country.
Grand Traverse Pie Company Locations – Visit GTPie.com for Participating Locations
Ann Arbor
Brighton
East Lansing
Norton Shores
Okemos
Plymouth
Portage
Lansing Downtown
Midland
Rochester Hills
Terre Haute, Indiana
Traverse City, Front Street
Traverse City, Park Street