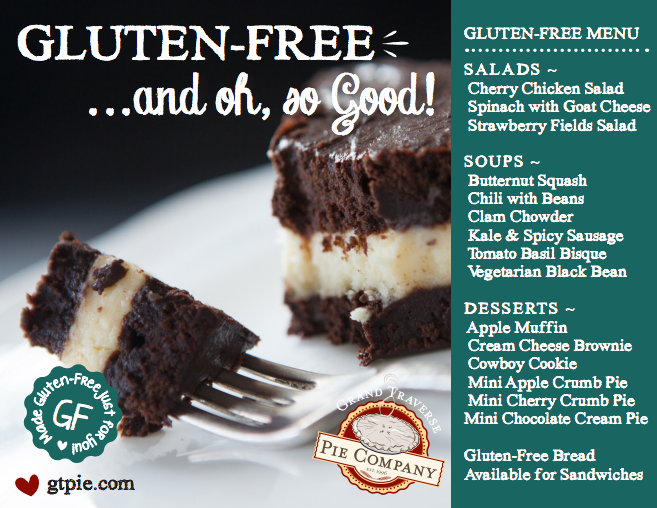 Gluten Free at GT Pie Testimonial
We love hearing from our pie shop guests, especially when we introduce new products. In September we added a new line of gluten-free pies and baked goods.
We are thrilled to have received this email from a customer in the Lansing area.
I have been a fan of GTP since it first opened in East Lansing and Okemos. I was diagnosed with Celiac Disease three years ago, and had to stop eating wheat. Having not eaten at GTP in years, I recently I found out you are offering gluten free menu items, and tried my old favorite sandwich (Lighthouse Turkey) on GF bread a few times. Yesterday was my birthday, so I decided on GTP for lunch so that I could have a dessert. It was the first time I tried your GF pie–Chocolate Cream and was just amazed! SO DELICIOUS! Honestly, it was one of the best desserts I've had in the three years since my diagnosis. I want to thank you for working so hard to make gluten free delicious! I know from personal experience that it is very difficult to work with the GF texture and taste. I have tried all kinds of GF goodies from all over, and this was by far one of the best. My parents shared my pie (they can eat wheat) and they really liked it as well. The shortbread crust was amazing. Thank you so much! – Ellen
Ellen went on to say, "I can't tell you how tired I am of salads and bread-less sandwiches!  Being able to order a GF "normal" sandwich and dessert (especially one tastes good!!) is almost unheard of in the Lansing area."
Thank you so much for your email, Ellen! We are very excited to offer gluten-free pies, baked goods, and breads at all of our Grand Traverse Pie Company locations.