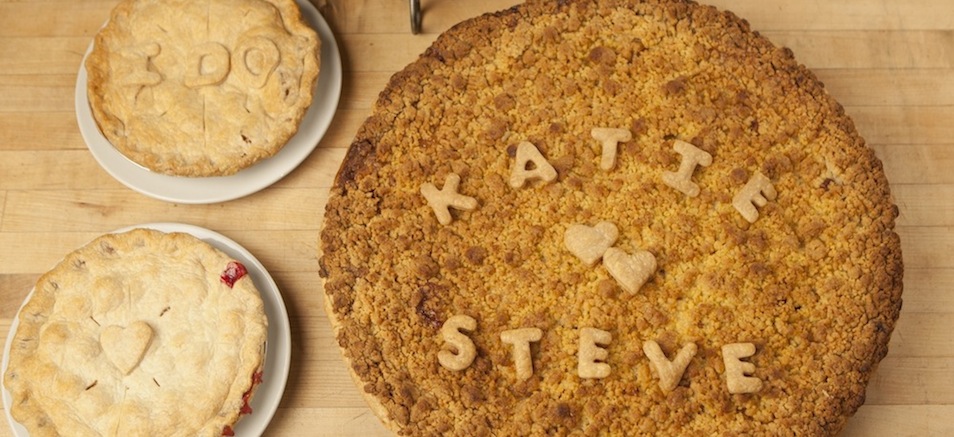 Wedding Pies
Anyone can offer cake on their wedding day, but for something unique that your guests will remember (and savor), how about Wedding Pies? Now is the time to think about what tasty dessert treats you'll serve on your once-in-a-lifetime day.
Some of our GT Pie locations even offer a giant wedding pie in a large tin that produces pies ranging from 40 to 50 pounds! Contact your local Pie Shop to see if they offer this special item.
Pie is meant for sharing – we think pie is the perfect addition for a wedding celebration.
Special Occasion Pie Options Include:
Our large 20″ pie can serve 75-100 people
6″ and 9″ pies are also available if you'd like to order a variety of pies to offer several different flavors.
Do you have guests with gluten intolerance? We now offer 6″ gluten-free mini pies in cherry crumb, apple crumb, and chocolate cream.
Choose fruit pies with Michigan-grown fruit and accentuate your wedding in the beautiful Great Lakes State.
Pies can be personalized with a special message!
Have a special request? Call your favorite pie shop to discuss your special event needs. All GT Pie shops can cater your wedding, providing pies for your guests.
What our guests are saying
We recently had a graduation/engagement party for my daughter and her fiancé. They both love pies, so we had four of your pies; cherry, apple, pecan and blueberry. Everyone loved them!! We're thinking about a pie bar for their wedding reception, of course GT will be the pie choice! Thank you for a wonderful product!
I have been working with Steve Huddleston (General Manager at our Terre Haute location) for a large pie order. I am getting married where over 200 guests will be enjoying Grand Traverse's wonderful lemon, pecan, and blackberry (despite the shortage) pies. I am so grateful for the wonderful service I have received from Steve. He worked with me every step of this process and even found a way to deliver my order to Indianapolis on the day of my ceremony. Wedding pie was a crazy dream I had, and Grand Traverse in Terre Haute has made it a reality. Thank you so much for making my special day absolutely perfect. Customer care like this is not common, and I wanted to be sure and share my appreciation with and everyone I can! Thank you thank you thank you!!! – Lindsay, Columbus, IN
Need some inspiration?
Check out these wedding pies on Pinterest.