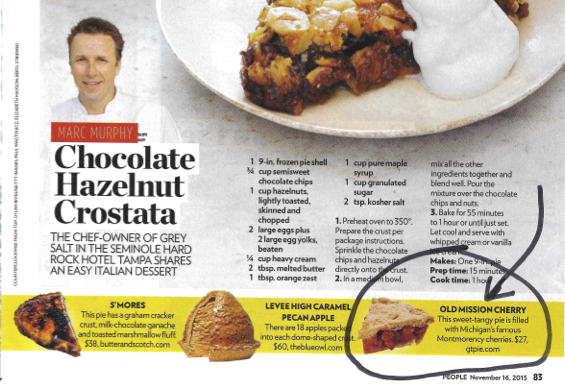 Old Mission Cherry Pie Love from People Magazine
We recently received some sweet pie love from People Magazine! Pick up a copy of the November 16, 2015 issue for an articled titled The Thanksgiving Pie Special. The article mentions top mail-order pies and includes one of our top selling pies – the Old Mission Cherry Pie!
The Old Mission Cherry Pie is filled with Tasty Montmorency cherries with a tangy deliciousness – baked in our flaky crust. This pie has also been featured on Oprah Magazine's "O List." It's a scrumptious local Northern Michigan favorite, named after one of the most beautiful peninsulas near Traverse City.
If you're a cherry lover and you haven't tried this one yet you need to head to your nearest GT Pie shop or you can order our Cherry Pies at shop.gtpie.com. Order by Friday, November 20th to have your pies arrive at your door in time for Thanksgiving!