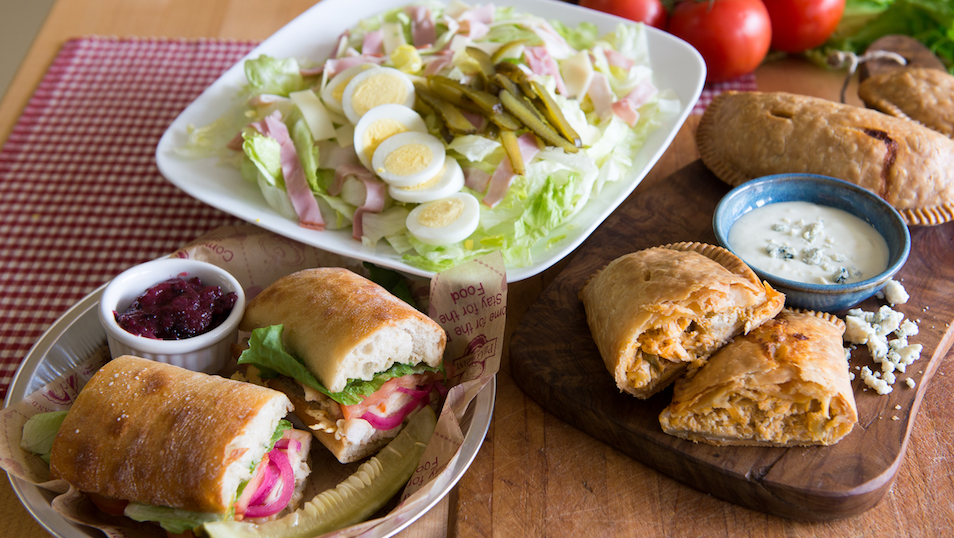 Oh So Good! Three New Summer Menu Items
We love serving tasty new ideas! From May 2nd through September 11th our shops are offering three new menu items just for you.
We've had lots of requests to bring back this Detroit favorite! Back by popular demand is the famous Hudson's Maurice Salad, a classic favorite served for many years at Hudson's Department stores. This chopped iceberg salad is loaded with julienne ham and turkey slices, Swiss cheese, sweet gherkin pickles and hard boiled eggs all tossed in a tangy dressing.
Next, our Pasty lineup is growing! You've enjoyed the GT Beef Pasty and now we bring you the GT Buffalo Chicken Pasty. We hand make our flaky dough and each pasty is packed with shredded oven baked chicken, blue cheese, Frank's hot sauce, celery and onion and is served with Ranch Dressing for dipping.
The last new menu item is a Grilled Chicken Parmesan sandwich. This new sandwich is served on our Focaccia bread layering oven baked chicken, parmesan cheese, pickled red onions, lettuce and tomato topped with a Parmesan Peppercorn Dressing.
We invite you to stop in to any of our GT Pie shops and enjoy these new summer menu items! We hope you love these special treats as much as we do.