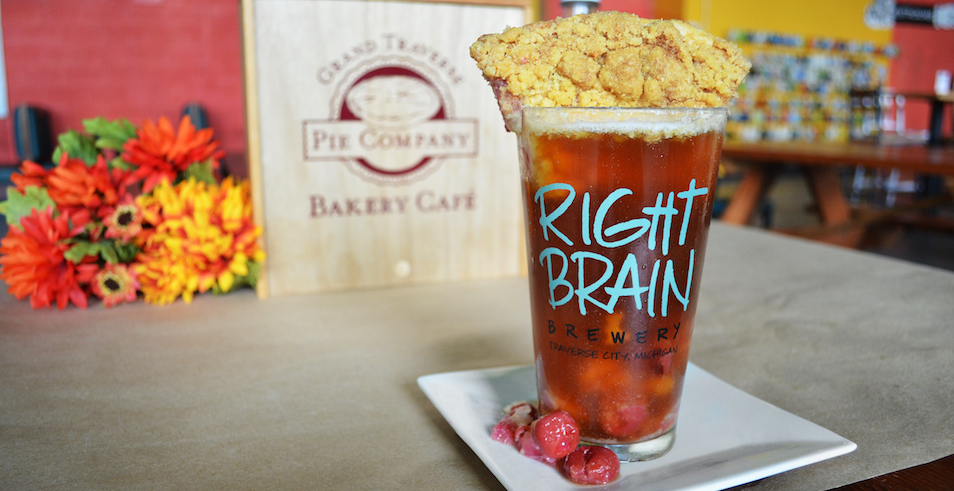 Cherry Pie Whole Beer to be Released June 29th
What do you get when you combine cherry pie and the brewing mastery of Right Brain Brewery? Cherry Pie Whole Beer!
Just in time for the National Cherry Festival, this delicious amber ale will be on tap at Right Brain Brewery in Traverse City beginning Friday, June 29th. In addition to our over 100 Cherry Crumb Pies and 60 crusts, this beer was made with local tart cherries and 50 gallons of organic tart cherry juice.
Cherry Pie Whole is part of a larger series Right Brain brews called the "Pie Whole Series," which includes Pecan Pie Whole and Apple Pie Whole.
Celebrate with a Free Slice of Cherry Crumb Pie on Friday, June 29th, 4:00pm
The 2018 Cherry Pie Whole will debut at Right Brain Brewery's Traverse City taproom on Friday, June 29th, and will be available on draft with to-go growler fills offered as well. Join us for the tapping beginning at 4:00pm and receive a free slice of Cherry Crumb Pie with the purchase of a pint of Cherry Pie Whole Beer at Right Brain Brewery, while supplies last.
You can find the Right Brain Brewery taproom nestled in the SoFo District of Traverse City at 225 E. 16th Street. In addition to Cherry Pie Whole, you will find a large variety of one-of-a-kind beers using whole natural ingredients. Right Brain truly lives up to their slogan of Keep Beer Curious.
So grab a brew and enjoy this behind-the-scenes look at the brewing process to make Cherry Pie Whole.
Cheers!