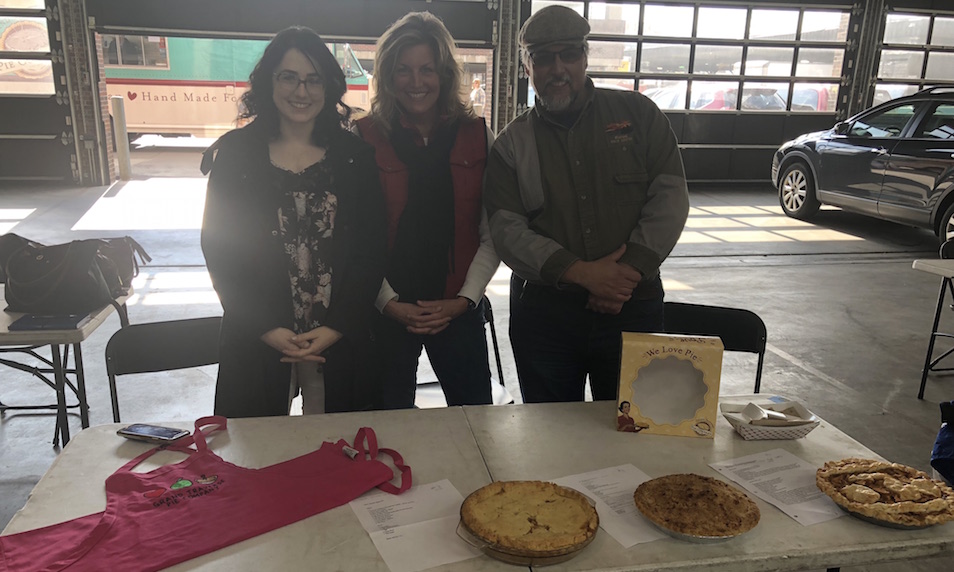 Winning Michigan Apple Pie Selected by Celebrity Panel at Eastern Market
Our new GT Pie Food Truck, Genevieve, made its debut at Detroit's Eastern Market on Saturday, October 13th. Guests enjoyed a variety of homemade GT Pie favorites including sandwiches, salads, chicken pot pie, and our famous pies.
Our GT Pie team also hosted a Michigan Apple Pie Baking Competition. Three finalists were selected and competed for three Meijer Gift Cards:  First Place $100; Second Place $75; and Third Place $50. We were joined by a panel of judges which included WDIV's Michelle Oliver; Midwest Living Magazine's editor of custom publications Kristen Bienart; and Henry Ford College Culinary Arts Instructors and Eastern Market Chefs Kristin Jablonski, CHE and Jeffery Click, CHE, CSC.
The Winners
The winning pie recipe was presented by Northville's Kay Fedewa and featured Michigan Honeycrisp apples. Kay's winning Michigan Apple Pie recipe will be featured on a recipe card with credit to the chef that will be distributed at over 30 locations throughout the city including Eastern Market on Saturdays, Detroit Community Markets and its website, Farm Stands, Tasting Stations, & Red Truck Fresh Produce.
Taking second place in the Michigan Apple Pie contest was Lois Spruytte of Richmond, Michigan. Her pie featured Michigan Honey Crisp Apples, Jonagold and Wolf River Apples. The third place pie was presented by Warren's Davie Dobek. His pie featured Fuji Apples.
Kay's Winning Recipe for "Simple Apple Pie"
Filling
7 Cups Michigan Honeycrisp apples (sliced very thinly)
½ Cup brown sugar
¼ Cup raw sugar (or white)
1 Tbs vanilla extract
¼ tsp ground nutmeg (preferably freshly ground)
¼ tsp ground ginger
1 tsp ground cinnamon
1 ½ tsp lemon juice
1 Tbs butter – melted
5 Tbs flour
Crust
½ lb butter
1 Tbs vanilla extract
1 Tbs almond extract
1 egg
2 Cups flour
1 Tbs sugar
• Bake 375 for 1 hr
Join us at Eastern Market this Saturday, October 20th
Genevieve will make her way back to Eastern Market on Saturday, October 20th as GT Pie Company with the Eastern Market team will host its first-ever Market Kids' Make and Bake Apple Pie Making activity 10 a.m. to Noon.  Children 12 and under are invited to participate in any of the pie making sessions: 10 a.m.; 10:30 a.m.; 11 a.m.; and 11:30 a.m.
Parents or adult friends are asked to accompany their kids while making the Michigan Apple Pies. A donation for participation is encouraged and ALL proceeds will be presented to Eastern Market to assist in further funding EMC children's healthy eating and cooking classes. Both Grand Traverse Pie Company and Eastern Market Corporation will match ALL proceeds to promote its mission of providing food access and nutrition education by way of its cooking classes.