Free Pie on National Pie Day – Wednesday, January 23
National Pie Day will soon be here! What is National Pie Day? Celebrated January 23rd each year, it's an unofficial national holiday created simply to celebrate the enjoyment of eating pie. What could be better than that? (It's not to be confused with its sister holiday – Pi Day, March 14th.)
To celebrate this special day of pie, as we have done traditionally, all 15 GT Pie Shops will be giving a free slice of Michigan fruit pie – Apple Crumb or Cherry Crumb pie with ANY purchase. We offer breakfast, lunch, and dinner focusing on craveable comfort foods including Chicken Pot Pie, traditional Beef Pasties, and heartwarming quiches. Not sure what to order? Check out our Exclusively GT Pie menu.
"Pie is part of America's desire for comfort food. Not just pie that meets every sweet tooth's desire, but also savory beef and chicken pot pies, pasties, and quiche serve up comfort all year long too," stated Mike Busley, Co-Founder of GT Pie. "We're honored to serve a bit of comfort each and every day through all sorts of pie. Any way you slice it, pie is America's comfort food."
We hope to see you and celebrate with you in one of our 15 GT Pie shops (find a location near you) on National Pie Day!
Warming Hearts and Homes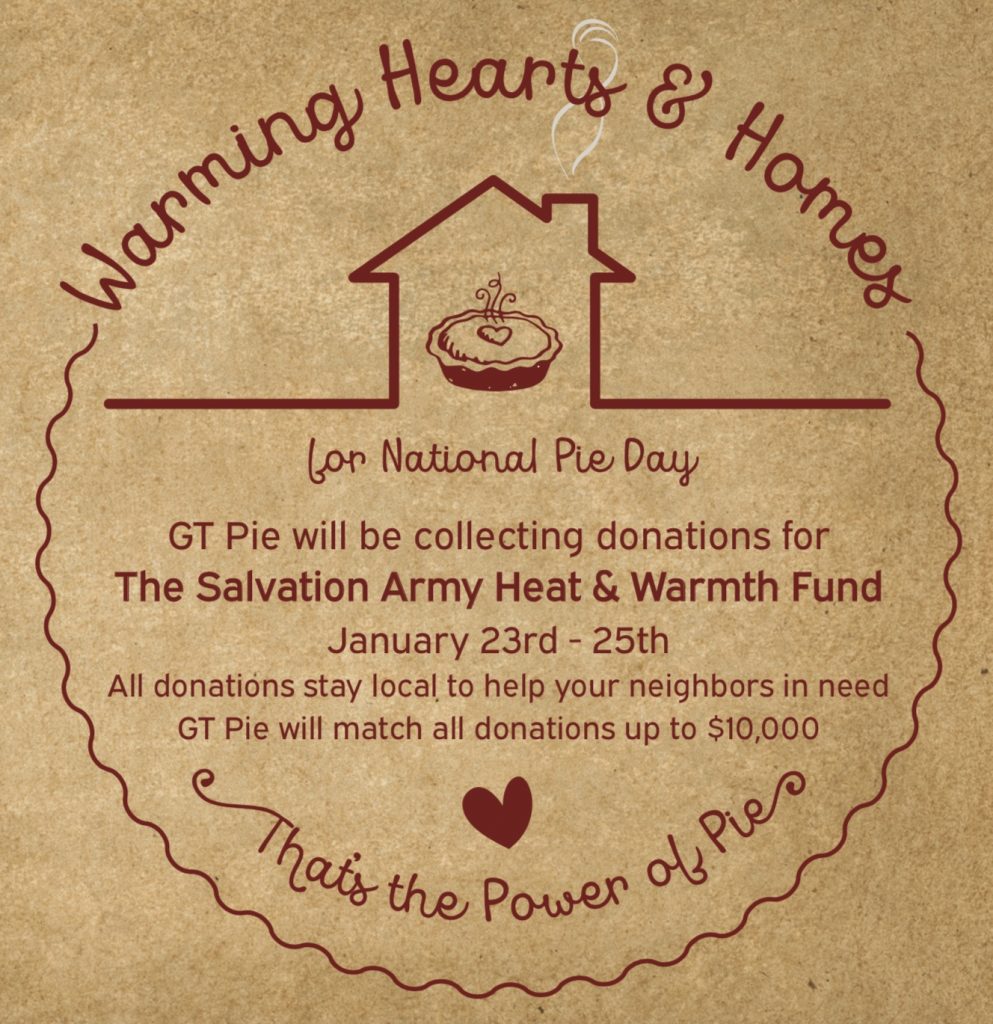 Using the "Power of Pie," we are partnering with The Salvation Army to raise funds to help heat our less fortunate neighbors' homes throughout Michigan and in Terre Haute, Indiana.
During the winter months, thousands of individuals and families across Michigan struggle to pay their heating bills. Those in need have come to rely on The Salvation Army's utility assistance program to help them get through the winter.
From January 23 through January 25, all 15 GT Pie shops will have the iconic Salvation Army countertop red kettles to collect donations to help heat Michigan family homes. Grand Traverse Pie Company has committed to matching the funds contributed (up to $10,000) to The Salvation Army red kettles.
Please consider making a donation to help your neighbors in need.