Celebrate Pi Day (3.14) with a Free Slice of Pie
Calling all Pi and Pie lovers! We are thrilled to once again celebrate P-i Day with P-i-e! Our GT Pie shops are offering a free slice of Michigan ABC Crumb Pie with any purchase all day on Sunday, March 14th. (Find a shop near you.) Pie is a perfect complement to the craveable comfort foods offered by our pie shops which include chicken pot pie, quiche, and heartwarming soups.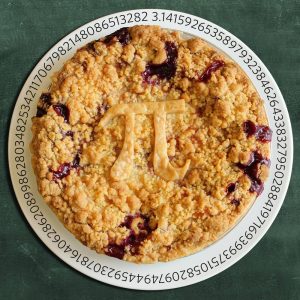 The most excellent part of all? The Northern Spy apples, Rubel Blueberries, Montmorency Cherries, sugar, and flour in our ABC Crumb Pie are all from Michigan. We are honored to shine a light on Pi Day on both the quality of Michigan's agricultural bounty and the importance education plays within our state. In fact, about 1,500,000 pounds of these Michigan apples, blueberries, cherries, sugar, and flour go into our delicious pies every year.
What is Pi?
The symbol used by mathematicians to represent the ratio of a circle's circumference to its diameter is the Greek letter π. That letter (and therefore the number π itself) can be denoted by the Latin word pi. In English, π is pronounced like "pie," of course. The number π is a mathematical constant that is the ratio of a circle's circumference to its diameter and is approximately equal to 3.14159.
Celebrating 25 Years
We are proud to be in our 25th year of making pie and giving back to communities across Michigan. Every location has on-site bakers, delivering the made-from-scratch and just baked taste of pie each and every day.
In addition to making over 40 varieties of handmade pie, we offer breakfast, lunch, and dinner dishes including sandwiches, salads, and soups made with local flavor and tasty twists.
Not Near a Pie Shop?
Not near one of our pie shops? Have the official Pi Day Michigan ABC Crumb Pie shipped to your doorstep! We ship coast-to-coast and can personalize a special pie just for you. Visit our Online Shop for details and place your orders by Monday, March 8th for regular delivery for Pi Day.
We hope to see you on Pi Day!