Introducing the GT Beef Pasty
Just in time for the comfort season of fall food! Beginning on September 14 you will find a brand new menu item in our Grand Traverse Pie Company shops. New to the GT Pie family of savory pies is a Michigan favorite – the GT Beef Pasty!
This Michigan favorite has a unique history which began when many ethnic groups were working the copper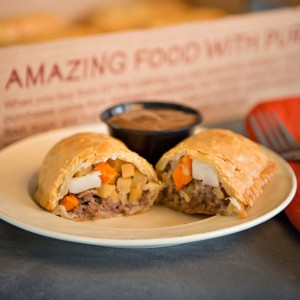 mines in the upper peninsula of Michigan. Because of its portability, the pasty made for a hearty meal easily transported to the mines for nourishment.
Today, a century later Grand Traverse Pie Company has unveiled its first ever pasty, the GT Beef Pasty. This pasty is prepared in traditional form and is filled with delicious ground beef, potatoes, rutabaga, carrots, and onion wrapped up in a hearty and handcrafted crust. Each pasty is served with a side of gravy for dipping (ketchup or sour cream is also available for substitution upon request). Like its predecessors, the GT Pasty is portable and can be eaten on the go or by sitting down with with a salad or soup on the side. The GT Beef Pasty is the perfect back-to-school meal on the go, and full of healthy ingredients to be enjoyed by the entire family. Other selections will be added to the GT Pasty line in the near future.
We invite you to stop in to any of our 15 shops and enjoy the new GT Beef Pasty! We are excited to offer this Michigan favorite and we hope you love it as much as we do.